Bigasoft Releases New WebM Converter Software
Tags: webm, vp8, webm encoder, webm decoder, webm converter, vp8 converter
Overview
Bigasoft, a committed WebM supporter, announced the release of its powerful WebM Converter which is a piece of sensational news again in the multimedia industry following the news that it added support for WebM encoding and decoding in its renowned Total Video Converter.
Bigasoft WebM Converter is integrated of WebM/VP8 encoding and decoding. No matter you are looking for create high quality WebM file/VP8 video, or for convert WebM/VP8 video to other video formats, Bigasoft WebM Converter will fulfill your task in a simple yet professional manner.
"Bigasoft is excited to announce that we have launched simplest All-In-One WebM solutions including playback, transcoding, and decoding today, and we are committed to offering the best WebM solution on the market." said Steve Brown, the Chief Executive of Bigasoft Corporation, "Bigasoft WebM Converter offers life-time usage and free upgrade with onetime fee charge only $39.99, and what's more, it does faster and better the WebM encoding and decoding and offers professional settings for personalizing video by yourself."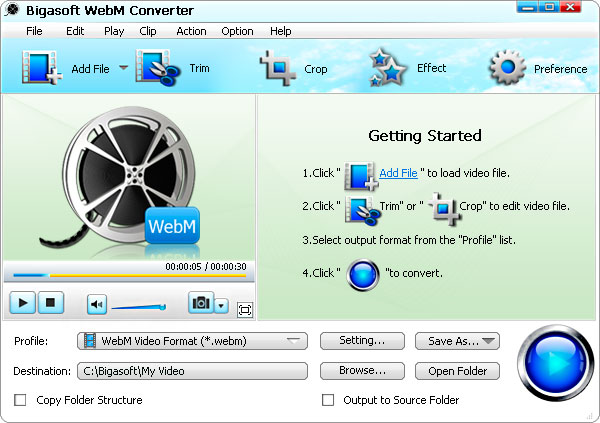 Bigasoft Corporation is a world's leading media software company dedicated to help people enjoy new digital life easily. As always, Bigasoft Corporation offers all its innovations as a free 5 minutes' conversion trial download. To obtain a review copy, or to inquire about any of our consumer and professional lines of products please contact:
Harold Miles
PR & Communications Manager
Bigasoft Corporation
Web: www.bigasoft.com
More News and Guides on Bigasoft.com ...
To find out more Bigasoft Solutions to enjoy your new digital life, you can go here.