How to play AVI/MKV/FLV/WebM/VOB movie on Nexus 7?
Tags: play any video on nexus7
Can't Play AVI/MKV/FLV/WebM/VOB Movies on Nexus 7 Tablet?
With up to 9 hours of HD video playback and 323 pixels packed into every inch, Nexus 7 is a great tablet to enjoy movie anytime and anywhere. However, Nexus 7 users may find it's hard to get videos in popular formats to be played well, such as AVI, MKV, FLV, WebM and VOB etc. From Google Play, we can get a lot of HD movies to play on Nexus 7. While sometimes, we also want to stream local movie collections to Google Nexus 7 for playing. When we transfer video which is in AVI, MKV, FLV, WebM or VOB to Nexus 7, error always pop up to tell us the video can't be played well.
Why Can't Play Videos on Nexus 7?
The native Android video app on Nexus 7 supports few video formats. And there are only a few player apps for our choice. When they update Android OS to the latest v4.4, it will take a long time to wait for new version optimized for new OS.
From Google official website, MP4, DivX, Xvid, H.264, H.263 and WMV are fully supported by Nexus 7. But some people still encounter issue in playing above format videos. It may be due to the following reasons:
Video codec is not H.263, H.264 AVC, MPEG-4 or VP8
The video contains AC3 codec which can't be supported
File size exceeds maximum 4GB
High bitrate video from camera
How to Play Any Format Movies on Nexus 7?
In order to play a variety of video types, including AVI, MKV, FLV, WebM and VOB, on Nexus 7. We have to convert them in advance. As a ideal Nexus 7 Converter, Bigasoft Total Video Converter is able to help you convert AVI, MKV, FLV, WebM, VOB etc. to Nexus 7 compatible format. This step-by-step guide will show you how to play any format videos on Nexus 7 easily.
Step
1

Install and launch Nexus 7 Converter

Firstly, free download and install Bigasoft Total Video Converter Bigasoft Total Video Converter windows version. If you are using Mac, try this Nexus 7 Converter for Mac.
Step
2

Add original video

Click "Add file" button to load AVI, MKV, FLV, WebM or VOB video which you want to play on Nexus 7.
Step
3

Select MP4 profile

Select HD H.264/MPEG-4 AVC Video (*.mp4) profile from HD videos list. Then click Convert button.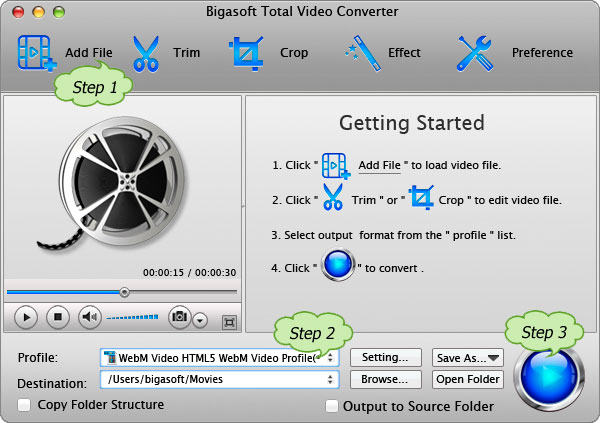 After the conversion is finished, transfer output mp4 video to Nexus 7 through USB. If you are Mac user, install Android File Transfer from www.android.com/filetransfer, and follow the instructions there.
Enjoy AVI/MKV/FLV/WebM/VOB movie on Nexus 7 anywhere and anytime with Nexus 7 Converter. In addition to the above formats, Bigasoft Total Video Converter also supports HD, 3D or SD Video in WTV, DVR-MS, WMV, ASF, ASX, DV, SWF, MXF, MVI, OGM, OGV, 3GP, 3GPP2, MPG, MPEG-1, 720p/1080p AVCHD, R3D etc.
Resources
FREE Download and Start Enjoying Now (20.15MB)
Learn more about Bigasoft Total Video Converter ...

Got a Mac? Free download your copy here (49.83MB)
Learn more about Bigasoft Total Video Converter for Mac ...

More Articles on Bigasoft.com ...
To find out more Bigasoft Solutions to enjoy your new digital life, you can go here.
Posted by Harvey Taylor. By the way, you may join me on Google+.