How to Convert SWF to HTML5 Video easily- Bigasoft Total Video Converter Will Show You
Tags: SWF to HTML5 Video
Overview:
This article is going to show you how to convert SWF to HTML5 video such as MP4, OGV and WebM with Bigasoft Total Video Converter for Mac.
Why convert to HTML5 Videos?
If you have banners that have tracking codes for advertising, or you want to edit the animation in SWF formats, or maybe you want the animation to be fluently watched after editing , you can convert them into HTML5 videos, thus visitors will not need flash player installed to watch them on PC, iPad, iPod, iPhone, Samsung, PlayStation, BlackBerry etc.
What is SWF?
According to Wikipedia, SWF is an abbreviation for small web format, an Adobe Flash file format used for multimedia, vector graphics and ActionScript. Originating with FutureWave Software, then transferred to Macromedia, and then coming under the control of Adobe, SWF files can contain animations or applets of varying degrees of interactivity and function. It may also be used for programs, commonly browser games.
What is HTML5?
I think it would be reasonable for us to know something about HTML first. So, what is HTML?
According to Wikipedia, HTML, HyperText Markup Language, is the standard markup language used to create web pages. It is written in the form of HTML elements consisting of tags enclosed in angle brackets.
And now, what is HTML5?
HTML5 is the final and complete fifth revision of the HTML standard of the World Wide Web Consortium. It is designed to easily include and handle multimedia and graphical content on the web without having to resort to proprietary plugins and APIs. It is a potential candidate for cross-platform mobile applications. Many features of HTML5 have been built with the consideration of being able to run on low-powered devices such as smartphones and tablets.
HTML5 Video
MP4, OGV and WebM are all good choice to choose as the HTML Videos, they are well supported by Internet Explorer 6/7/8/9/10, Firefox, Google Chrome, Apple Safari and Opera, iPhone, iPad, Android, Window Phone and BlackBerry.
Why Should We Choose Bigasoft?
Two reasons:
First, it is powerful. It's powerful encoding and decoding ability to guarantee successful conversion not only between SWF and HTML5 videos, but also between almost any formats available at present.
Second, it is easy to use. It is well designed and all you need is three steps to convert.
So,Bigasoft Total Video Converter is the best way to convert SWF, to HTML5 video or to AVI, FLV, M4A, MKV, RM, MOV, FLV, WTV, MXF, MVI, F4V, Apple ProRes MOV, 1080i HD, AVCHD or any format available.
How to convert SWF to HTML5 Video?
In this case, we will use OGV for example, but the process can be applied to any formats conversion.
Now, first let's make preparation work by downloading Bigasoft Total Video Converter and then launching it.
Second, three steps to convert SWF to OGV.
Step
1
Put in the SWF file that you want to convert into OGV.
Method 1: Drag the file and drop it into the right field of the software
Method 2: Click Add File and choose the file that you want to convert.
Tip: To do batch converting, you can add several files at the same time.
Step
2
Choose the format from the right side of Profile, in this case, choose OGV.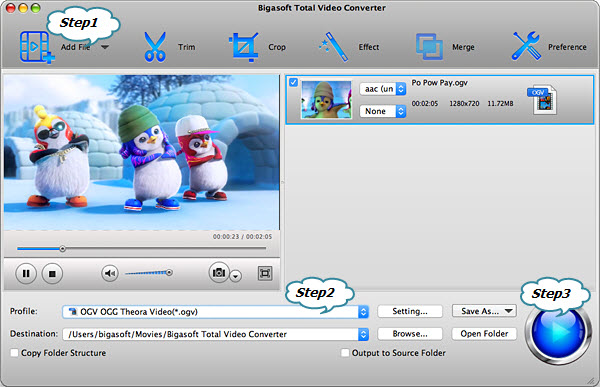 Tip: If you do not set the destination, the converted file will be automatically stored in the folder named Bigasoft Total Video Converter. If you want to put it somewhere else, you can click Browse button and set the access manually.
See? Easy as promised.
Conclusion:
Bigasoft Total Video Converteris the t easiest way to convert SWF to HTML5 Videos. It is easy to use, it can almost convert to any formats available at present, such as DiveX and Xvid AVI or MP4,FLV, or Xvid, DivX, H.264, M4A, 3GP, MKV,, RM, MOV, FLV,WTV, MXF, MVI, F4V, Apple ProRes MOV, 1080i HD, and AVCHD or any format that are supported by the player, not only HTML5 videos, it can convert hundreds of files at the same time by just one click and assure you high-quality output files.
Besides converting SWF files with Video Converter, you can also record it and save to MP4 with Video Recorder which is built in Downloader Tool. The steps are same as recording streaming video.
More Articles on Bigasoft.com ...
To find out more Bigasoft Solutions to enjoy your new digital life, you can go here.
Posted by Harvey Taylor. By the way, you may join me on Google+.