The Most Powerful and Easy-to-use MP4 Editor-Bigasoft Total Video Converter
To Trim, Crop, Merge, Split, and Rotate MP4 Files Easily
Tags: MP4 Editor, Crop, Merge, Split, Rotate MP4
Overview:
If you are searching an editor for your MP4 files, then this article is the just for you. In this article, I will show you the best MP4 editor and how to crop, merge, split, and rotate MP4 files with it.
MP4 is an very popular video format, most of the videos downloaded are in MP4 format and if you want to upload your own videos, you will find that MP4 is also a favored formats for websites such like YouTube, considering that MP4 is also well supported by portable devices, so it make sense that you convert your videos in MP4 format.
However, a perfect video is not always made by just recording ,if you want to make a high qulity video, you need to do a lot of editing, such as crop , trim, merge, add special effects and add watermark to your videos if you like.
Why do we recommend you Bigasoft Total Video Converter?
Actually, there are a lot of MP4 editors, some of them are even free. So what will make you choose Bigasoft Total Video Converter?
First, there is no free meal in the world, we will always have to pay for it. Most free MP4 editors will add logos of their company to your video compulsorily, making your beloved video free advertisement for them. If you are OK with this, then it is fine; if you are not, please choose someone that will cost you money, cause all they want is the charge for the software and they well save you from advertisements and rascal software.
Second, why Bigasoft?
Bigasoft is s powerful editor for MP4, or AVI, WMV, ASF, VOB, MOV, FLV, SWF, MKV, RM, WTV, MXF, MVI, F4V, Apple ProRes and any other formats available. It offer profound editing functions and it is easy to use.
Besides being a powerful MP4 editor it is also a wonderful converter, which can convert your files from MP4 to AVI, WMV, ASF, VOB, MOV, FLV, SWF, MKV, RM, WTV, MXF, MVI, F4V, Apple ProRes and any other formats available to make sure that the video you made are supported by all websites.
What can Bigasoft do to edit MP4 files?
1 Rotate MP4 files
If the video you recorded need to rotate, you can follow the picture below.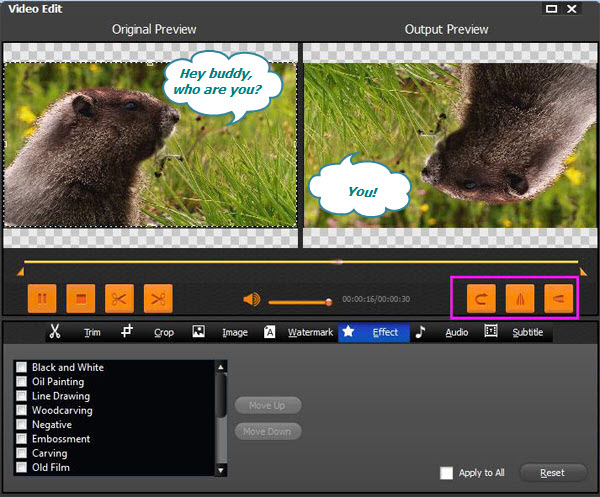 2 Trim MP4 files
If some parts in the video are not needed, you can remove them with the trim function.
Method 1: You can keep the part you want by dragging the two triangles as in the picture.
Method 2: You can keep the part you want by setting the start time and end time.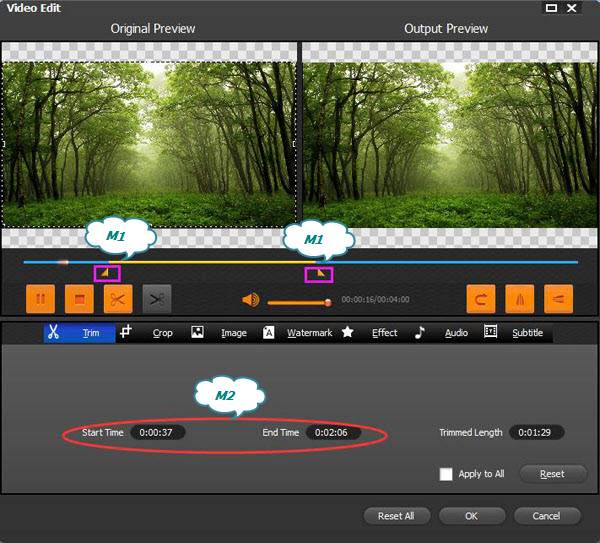 3 Crop MP4 files
Method 1 Crop by adjusting the shear frame.
Method 2: Put in numbers to set the size of the video. See picture below.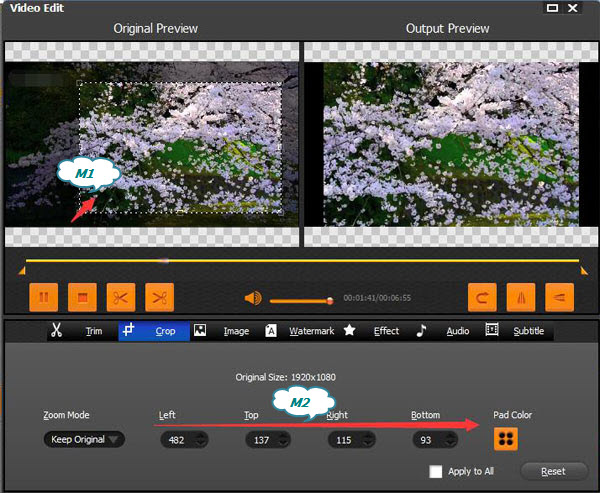 4 Ajust MP4 files images
Change the Brightness and Contrast and Saturation to make your video look better.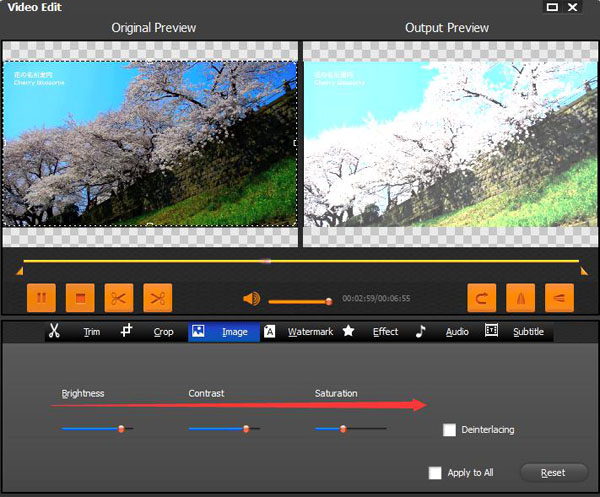 5 Set Effect for MP4 files
You can choose different effects for your video achieve different effects.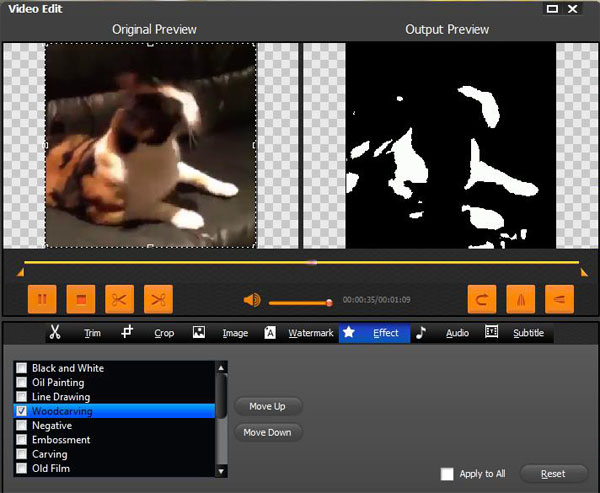 6 Watermark your MP4 files
You can put in text or even pictures to made visitors know who made this fantastic video,even if they saw it from someone else's website.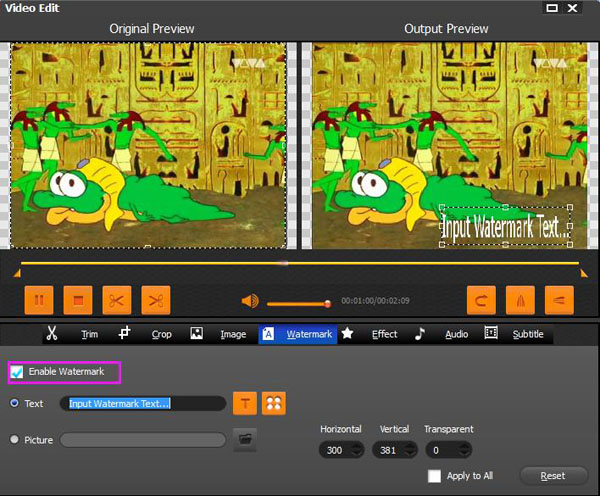 7 Choose the audio for MP4 files
You can add audios you like to go with your video.
8 Editing subtitle for MP4 files
You can add subtitles to remind people where the funny point is or to add more atmosphere to the video, cause you know, words are sometimes more alluring and inciting.
9 Merge MP4 files
If you have several videos and you want to merge it into one, you can add all the videos into the profile, choose all of them and then click Merge.
10 Convert MP4 files
Also, remember to choose the video formats from Profile. After all is set, press Convert button to create the edited video. If you do not want to set the video in MP4, you can choose any format you want .
See? A powerful MP4 editor, a few settings that are easy to use, your great sense of art, and bang! You got yourself a super attractive video which will be applauded by the world if they see. So why waiting, just download this powerful software and make your own video arts.
Conclusion:
Bigasoft Total Video Converter for Mac is the best MP4 editor, is can do profound editing such as, trim, crop, merge, split, rotate and adding special effects, subtitles, watermarks to your video, it also support adding deleting and changing the audios for your video. What's more , it can convert your videos to and and even convert MP4 files easily to AVI, WMV, ASF, VOB, MOV, FLV, SWF, MKV, RM, WTV, MXF, MVI, F4V, Apple ProRes and any other formats available at present.
More Articles on Bigasoft.com ...
To find out more Bigasoft Solutions to enjoy your new digital life, you can go here.
Posted by Harvey Taylor. By the way, you may join me on Google+.