How to solve can't recognise MP4 files for Plex Media Manager?
Tags: Plex Problem Recognizing MP4
Overview
MP4 files are not showing up on Plex library? How to stream MP4 shows to Chromecast with Plex? Tried to save MP4 files under Home Films and Movies but neither of them recognized, what should I do? I can browse to the folder and see the movies in AVI format, but not MP4 ones, why? If you are using Plex to streaming videos, you may have encountered above issues. In this article, we will show you some possible solutions to solve Plex can't recognise MP4 problem.
How to solve can't stream MP4 with Plex
Firstly, make sure you've added the directory to your library and updated it. Plex requires a special naming convertion for TV shows in order to download the metadata of them properly. If your MP4 videos are TV shows, please try to rename the MP4 files so they have simpler names (e.g. Series - S01E01 - Episode Name). Most time, I don't care about the metadata. There is another solution. We can make a new library or pick Other or Personal Media and put the MP4 TV shows in there. After that, these MP4 files will show up and be streamed to TV.
If it does not help, more than likely it is a permission problem. You need to change the group ownership on the folders in which you save the MP4 files. Setting the permissions to be recursive is highly recommended. So the sub folders have the same permissions.
Tried all the suggestions above but still had the issue in recognise MP4 files with Plex? Don't worry. Maybe the codec in your MP4 file causes such issue. MP4 is only the container which supports several video/audio codecs. According Plex official websites, native video support is typically limited to the MP4 container, H.264 video encoding, and AAC audio. So come MP4 files which contain other codecs may not be streamed well. Well, this is not a difficult problem once you get an efficient video tool like Bigasoft Total Video Converter. As a professional MP4 decoder and encoder, Bigasoft Total Video Converter will help you to re-encode video or audio track to make it more compatible.
Make Preparation: Run Bigasoft MP4 Converter
Download the ideal MP4 Converter - Bigasoft Total Video Converter, install and launch it, the following interface will pop up.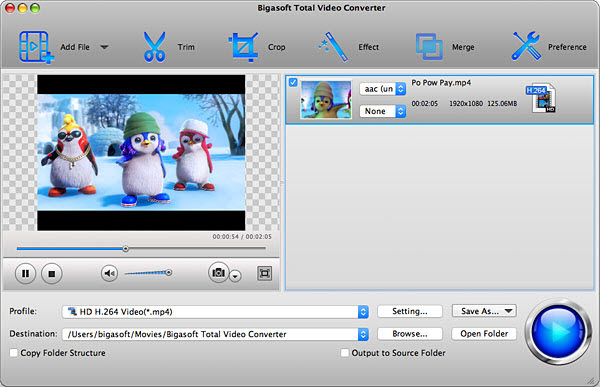 Step 1 Import MP4 files
Click the "Add Files" button on the toolbar, select the MP4 video which can't be recognized by Plex into which you would like to embed subtitles. Then it will be loaded and listed on the main interface.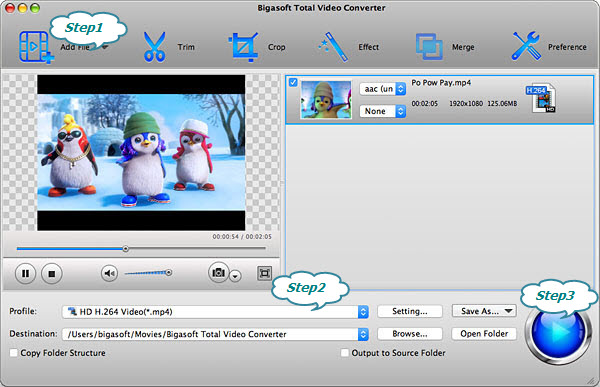 Step 2 Choose Plex compatible format
Select "H.264/MPEG-4 AVC Video(*.mp4)" profile from "Profile" drop down menu. hen click "Settings" button to open the "Advanced Settings" window. There choose "H.264/MPEG-4 AVC" for "Video Codec" and "AAC" for "Audio Codec"
Step 3 Start the conversion
Click "Convert" button to start and finish the MP4 conversion. After performing this operation, the converted MP4 will be recognized and streamed well with Plex. Download and try Now!
More Articles on Bigasoft.com ...
To find out more Bigasoft Solutions to enjoy your new digital life, you can go here.
Posted by Harvey Taylor. By the way, you may join me on Google+.