If you are troubled by how to convert mjpeg to mp4, Bigasoft will solve your problem.
Tags: Convert MJPEG to MP4, easy, batch convert
Overview
For people who are intended to make videos by IP cameras, webcams and digital cameras but cannot upload them onto internet have them watched on the iPhone, iPad, iPod, this article will show you how to convert MJPEG to MP4 to solve your problems.
Ah, spring, the best season of the year! With spring coming, you might have take off your coat and started to make plans of going out to have some fun. Few days ago, some of my friends went to Japan to see sakura. Their cameras recorded the delicate flowers in bloom and the petal rains and especially how it looks in the night. Believe me, it is heaven, only with more romance and exoticism. But when they are trying to upload the videos onto Internet, they find the upload speed slow, or even failed. They were frustrated until they followed my advice to upload the videos on to the PC first, convert those MJPEG files to MP4 and then upload the MP4 files on to the internet. This solved their problems.
So, if you have come across problems like this or your iPhone or iPod won't support the video, you can try this way as well.
And for people who are not satisfied by just solving the problem but also want to learn more about MJPEG and MP4, or for whom who are curious about all kinds of video formats, this article make introduction about MJPEG and MP4 and show you the easiest way to convert MJPEG to MP4.
What is MJPEG?
MJPEG, or Motion JPEG or M-JPEG, full name Motion Joint Photographic Experts Group , is an video compression format originally developed for multimedia PC applications . MJPEG was first used by the QuickTime Player in the mid 1990s and now it is widely used by video-capture devices like digital cameras, IP cameras, webcams, and non-linear video editing systems. It is supported by browers like Google Chrome, Mozilla Firefox, Sarari and Play Station console. M-JPEG uses intraframe-only compression scheme which will keep the original detail of the video but achieve a compression-ration of 1:20 or even lower.
What is MP4?
Mp4 is a compression coding format which applies to audio and video, developed by Moving Picture Experts Group. MP4 files (MPEG-4 Part 14) can store video, audio and subtitle data. Like most modern container formats, MPEG-4 Part 14 allows streaming over the Internet. The only official filename extension for MPEG-4 Part 14 files is .mp4. MP4 video format uses separate compressions, for example, it use MPEG-4 encoding for video and AAC compression for audio. MP4 files are widely supported by many video programs and various hardware devices, so it is a very popular format for cell phones and computers, most of the video website would support MP4. Also, it is well supported by iTunes system, so MP4 vides can be played by iPhone, iPad and iPod.MP4 has a higher compression ration and the quality of the output file is also fine.
Now for people who are interested, I will show you the easiest way to convert MJPEG to MP4. Let's make preparation work by downloading Bigasoft Total Video Converter and then launching it.
Three steps to convert MJPEG to MP4.
Step 1 Put in the MJPEG file that you want to convert into MP4.
Method 1: Drag the file and drop it into the right field of the software
Method 2: Click Add File and choose the file that you want to convert.
Tip: To do batch converting, you can add several files at the same time.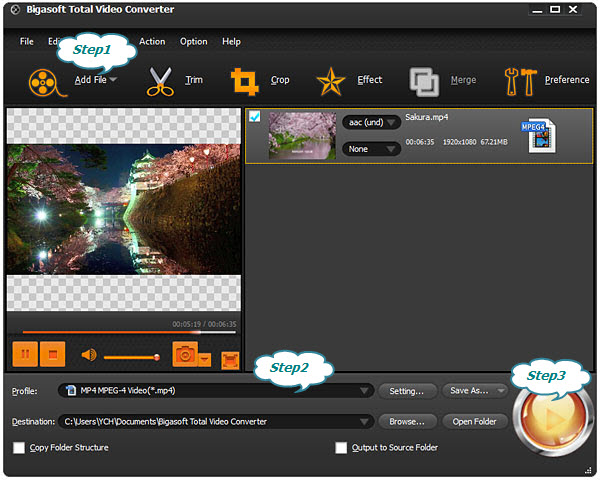 Step 2 Choose the format from the right side of Profile, in this case, choose MP4.
Step 3 Convert.
Tip: If you do not set the destination, the converted file will be automatically stored in the folder named Bigasoft Total Video Converter. If you want to put it somewhere else, you can click Browse button and set the access manually.
Conclusion:
Bigasoft Total Video Converter is the most easy way to convert MJPEG to MP4, it is easy to use, it can batch convert thousand videos by just one click, it can offer high-quality output MP4, , It works the same way when it is applied to convert HEVC/H.265, AVI, Xvid, DivX, H.264, M4A, 3GP, MKV, WMV, RM, MOV, FLV,WTV, MXF, MVI, F4V, Apple ProRes MOV, WebM, VP8, 720p, 1080p, 1080i HD, AVCHD videos and between.
More Articles on Bigasoft.com ...
To find out more Bigasoft Solutions to enjoy your new digital life, you can go here.
Posted by Harvey Taylor. By the way, you may join me on Google+.