How to Convert VP9 WebM to MP4, AVI or WMV easily- Bigasoft Total Video Converter will show you.
Tags: Convert VP9 WebM to MP4, Convert VP9 WebM to AVI, WMV
Overview:
This article will make some introduction about VP9, VP8, WebM and will take convert VP9 WebM to MP4 for example to show you how to convert VP9 WebM to MP4 or convert VP9 WebM to AVI , WMV or any format that is supported by the player.
If you watch videos a lot, then you might be familiar with WebM format, and sometimes you will find that videos from YouTube won't be played by your Mac, or iPhone, iPad or iPod, you might wonder why, well let's see some information about WebM, VP9, and VP8, then we will figure out why and know how to solve this.
What is WebM?
WebM is a video file format developed by Google, distributed under a BSD license. It is primarily intended to offer a royalty-free alternative to use in the HTML5 video tag.
The WebM container is based on a profile of Matroska. WebM initially supported VP8 video and Vorbis audio streams. In 2013 it was updated to accommodate VP9 video and Opus audio.
VLC media player, MPlayer and K-Multimedia Player have native support for playing WebM files and YouTube offers WebM videos as part of its HTML5 player. All uploaded files are encoded into WebM.
Internet Explorer 9, Safari for Windows and Mac OS X relies on QuickTime to play web media does not support WebM unless a third-party plug-in is installed.
What is VP9?
VP9 is an open and royalty free video coding format being developed by Google with the earlier development names of Next Gen Open Video (NGOV) and VP-Next. VP9 is a successor to VP8 which aims to pursue the same quality with VP8 but only half of its bitrate. Chromium, Chrome, Firefox, and Opera support playing VP9 video format in the HTML5 video tag.
Then, what is VP8?
According to Wikipedia, VP8 is a video compression format owned by Google and created by On2 Technologies. VP8 is currently supported by Opera, Firefox, Chrome, and Chromium and widely used for IPTV and videoconferencing.
If the VP9 or VP8 WebM video cannot be played, you can use the easiest way to convert the VP9 or VP8 WebM video to MP4, AVI or WMV and in this case, I will take MP4 for example.
Let's make preparation work by downloading Bigasoft Total Video Converter and then launching it. Actually, the way I am going to show you could be applied to convert the VP9 WebM files to FLV, or Xvid, DivX, H.264, M4A, 3GP, MKV,, RM, MOV, FLV,WTV, MXF, MVI, F4V, Apple ProRes MOV, 1080i HD, AVCHD or any format that are supported by the player.
Three steps to convert VP9 WebM to MP4.
Step 1 Put in the WebM file that you want to convert into MP4.
Method 1: Drag the file and drop it into the right field of the software
Method 2: Click Add File and choose the file that you want to convert.
Tip: To do batch converting, you can add several files at the same time.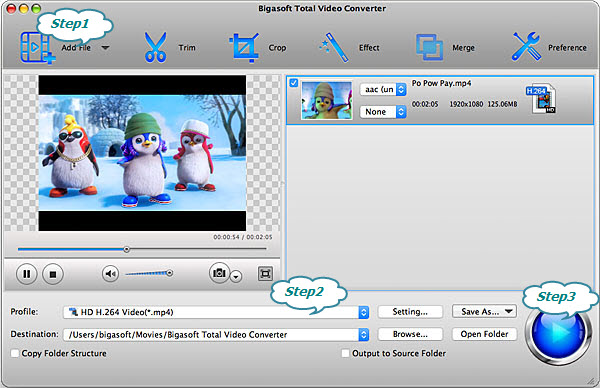 Step 2 Choose the format from the right side of Profile, in this case, choose MP4.
Step 3 Convert.
Done! As promised, it couldn't be easier.
Tip: If you do not set the destination, the converted file will be automatically stored in the folder named Bigasoft Total Video Converter. If you want to put it somewhere else, you can click Browse button and set the access manually
Conclusion:
Bigasoft Total Video Converter is the most easy way to convert VP9 WebM to MP4, it is easy to use, it can do batch setting by just one click, it can offer high-quality output MP4. It works the same way when it is applied to Intel Real Time (Indeo), Cinepak,, Editable MPEG, VDOWave, ClearVideo / RealVideo, QPEG, and MPEG-4 Video MPEG-1, MPEG-2, WMV1, WMV2, H.263, H.263p, H.264/MPEG-4 AC, or as DiveX and Xvid.
More Articles on Bigasoft.com ...
To find out more Bigasoft Solutions to enjoy your new digital life, you can go here.
Posted by Harvey Taylor. By the way, you may join me on Google+.