Xvid Converter - Convert to Xvid video from any other format
November 21th, 2014 by Emily Moore
Tags: Xvid Converter, Convert Video to Xvid HD, Video to Xvid HD Conversion Xvid Video Converter
What is XviD?
XviD is an open source MPEG-4 video codec library distributed under the terms of the GNU General Public License. It emerged to complete the proprietary DivX Pro codec, which is placed under license restrictions and therefore is only available for members of the DivX Advanced Research Centre (DARC).
XviD codec is intended for compressing video data in order to facilitate and speed up online video data exchange and improve storage on hard disks. The codec is capable of stripping video data of unnecessary junk and ensures higher compression rates. XviD-compressed videos can be 200 times smaller than the source video, with the visual quality well intact.
Why Use XviD?
XviD ensures fast compression and exceptional quality video performance and exceeds many expensive similar products. The codec is available for free, and it is incorporated in many hardware devices. The extensive hardware support eases data exchange between portable, home and other types of devices. There are no feature, testing or time restrictions for XviD, and it can be used safely and conveniently all the time. Since XviD is open-source software, its source code is available for public review, so anyone can check it and make sure there is no spyware or adware.
How to convert videos to XviD format?
The following will take converting AVI to XviD as an example, it also applies to convert XviD to other video or audio formats.
Make Preparation: Free download I Bigasoft Total Video Converter
Free download the professional XviD Converter - Bigasoft Total Video Converter (for Windows, for Mac), install and run it, the following interface will pop up.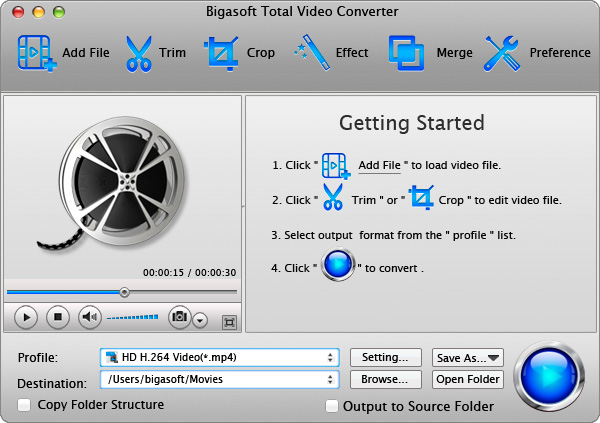 How to convert AVI to XviD step by step
Step
1

Add the AVI file to Bigasoft XviD Converter for mac

Click "Add files" icon to load your sources .AVI videos. Or find and selected the video file you want to convert, then drag and drop them to the software interface.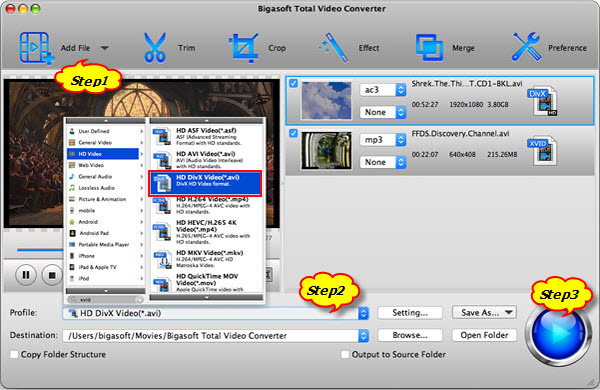 Step 2 Choose XviD as output format
Next, you should select XviD as output format so the imported video will be converted to what you need. For converting AVI to XviD, you can click "Profile", select "HD Video" then " HD Divx Video(*.avi)".
Step
3

Convert the AVI to XviD

Click the "Convert" button and this XviD converter will immediately start all video conversion tasks. After finished, click "Open Folder" icon. You will get the converted video and continue whatever you want with it.
Conclusion
Besides, you can even output multiple files from the same file at one time to meet multiple requirements. Download Bigasoft XviD Converter for a free trial now, and start to experience the high-speed XviD video conversion.
More Articles on Bigasoft.com ...
To find out more Bigasoft Solutions to enjoy your new digital life, you can go here.
Posted by Emily Moore. By the way, you may join me on Google+.