How to convert 4K to 1080P video to play on most players?
November 26th, 2014 by Emily Moore
Tags: Convert 4K to 1080P, 4K Video Converter, HD Video Converter
Overview
Have trouble in playing UHD 4K video? Want to convert or compress 4K media to 1080P? Sometimes, you may have to convert 4K to 1080P resolution to solve the issue in playing 4K on media devices or players. Here we can introduce an easy to use 4K Video Converter and show you the detailed guide on how to convert 4K to 1080P resolution without losing a lot of quality.
UHD 4K is the main trend of video resolution, but not compatible with all the media players or smart devices. Though Apple didn't announce it, actually, iPhone 6 is able to play 4K videos. However, iTunes will not sync 4K video so you need some other app or convert 4K to 1080P to play 4K video on iPhone 6. What's more, with the number of 4K-capable cinemas growing fast, more and more new movies are filmed directly in the 4K digital format. Since there are more and more 4K videos which we can get, in order to play them easily with any player or device, converting 4K to 1080P is a good choice to make 4K video more compatible and keep HD quality.
4K to 1080P Converter
Acting as a powerful UHD 4K Converter, Bigasoft Total Video Converter is capable of converting any UHD 4K video to 1080P or other HD formats. Besides changing resolution from 4k to 1080P, you can also transcode between all video and audio formats and set any resolution value you like. The following will introduce a step by step guide on how to convert 4K Ultra HD video to 1080P with Bigasoft 4K Converter.
Firstly, download Bigasoft Total Video Converter for Mac which is fully compatible with Mac OS X 10.10 to install. If you are Windows user, just try this 4K Converter Windows version.
Step
1

Add 4K video

Click the "Add File" button to locate and import 4K Ultra HD video to this 4K Converter. This powerful Total Video Converter also supports drag and drop function to import original video.
Step
2

Set 1080P resolution

Click Profile drop down button to select format for output from "HD Video" category. The default resolution is 1920x1080. If you prefer to set 1440x1080 video size, the setting will be found on "Advanced Settings" panel. Just click "Setting" button on the right of Profile box to expand "Advanced Settings" panel.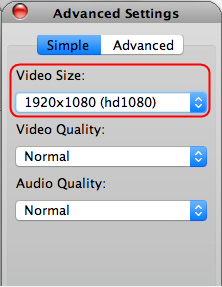 Step
3

Start the conversion

Click the "Convert" button to start and finish the 4K to 1080P HD video conversion.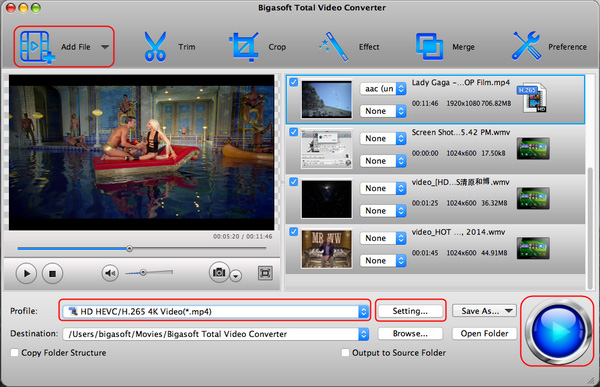 It is just easy to convert 4K to 1080P with the above powerful 4K UHD Converter and step by step guide. Bigasoft 4K Converter also helps to download YouTube 4K video or convert 1080P to 4K resolution for your 4K devices. Download the app to try now.
What is 4K?
4K is a new resolution standard designed for digital cinema and computer graphics. It refers to the video of a pixel resolution of 4096*2160 (4000 pixels, 8.8 megapixels, 17:9 aspect ratio) mainly for digital cinema, or of a resolution of 3840*2160 (8.3 megapixels, 16:9 aspect ratio) mainly for Ultra HD television.
You may also be interested in...
How to add music to video with Bigasoft Total Video Converter?
How to Fast Remove Audio Track from MKV?
How to fast extract high quality audio from video?
Resources
FREE Download and Start Enjoying Now (20.15MB)
Learn more about Bigasoft Total Video Converter ...

Got a Mac? Free download your copy here (49.83MB)
Learn more about Bigasoft Total Video Converter for Mac ...

More Articles on Bigasoft.com ...
To find out more Bigasoft Solutions to enjoy your new digital life, you can go here.
Posted by Emily Moore. By the way, you may join me on Google+.