How to Convert Video to Galaxy S6 Easily?-Bigasoft Total Video Converter Will Show You
Tags: Convert Video for Galaxy S6
Overview:
If you've got a Galaxy S6 or S6 Edge, and you've came across problems like videos cannot be played, then this article might be helpful to you, cause we are going to show you how to convert video to Galaxy S6.
Being published on March, Samsung S6 was really an eye-catcher, especially its curved large glass screen which makes watching videos on it a treat. But since we are not advertising for it and I believe that you've all got your own opinions about its advantage and disadvantage, so will move on directly to the topic of how to convert videos to galaxy S6.
No matter how good it is, it still have its own limits, for instance, it can support limited video formats, so people often get disappointed when you want to enjoy their cherished videos on it.
If you want to play videos such as Blu-ray/DVD, ISO/IFO files, Youtube Video, or to be more exact , WMV, DRM, MTS, VOB, MOV, MPG, FLV, F4V, AVI, AVCHD, MXF, TiVo, M4V to Galaxy S6, you will have to convert them into formats like MP4 (MPEG4/H.264), WMV, DivX, XviD, H.264/AVC.
Why Should We Choose Bigasoft?
Two reasons:
First, it is an powerful converter. It's powerful encoding and decoding ability to guarantee successful and high quality conversion not only to Galaxy S6 videos, but also between almost any formats available at present.
Second, it is an editor. You can edit the video with it, such as cropping the part you do not want and adding srt files if necessary. You can also add watermarks on the video.
Thrid, it is easy to use. It is well designed and all you need is three steps to convert.
So, Bigasoft Total Video Converter is the best way to convert videos to Galaxy S6/S6 Edge, or to convert files to AVI, FLV, M4A, MKV, RM, MOV, FLV, WTV, MXF, MVI, F4V, Apple ProRes MOV, 1080i HD, AVCHD or any format available.
How to convert videos to Galaxy S6?
In this case, we will use H.264 MP4 for example, but the process can be applied to any formats conversion.
Now, first let's make preparation work by downloading Bigasoft Total Video Converter and then launching it.
Second, three steps to convert video to H.264MP4.
Step 1 Put in the file that you want to convert into H.264MP4 for Galaxy S6.
Method 1: Drag the file and drop it into the right field of the software
Method 2: Click Add File and choose the file that you want to convert.
Tip: To do batch converting, you can add several files at the same time.
Step 2 Choose the format from the right side of Profile, in this case, choose H.264MP4.
Tip: You can choose it from video formats list under General Video or HD Video, same format but of different quality.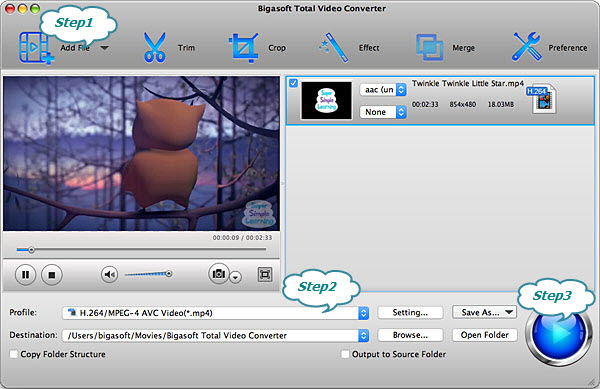 Step 3 Convert.
Tip: If you do not set the destination, the converted file will be automatically stored in the folder named Bigasoft Total Video Converter. If you want to put it somewhere else, you can click Browse button and set the access manually.
See? Easy as promised.
Conclusion:
Bigasoft Total Video Converteris the easiest way to convert videos to Galaxy S6/S6 Edge. Not only an perfect converter for Galaxy S6, it can almost convert videos to any formats available at present, such as DiveX and Xvid AVI or MP4,FLV, or Xvid, DivX, H.264, M4A, 3GP, MKV,, RM, MOV, FLV,WTV, MXF, MVI, F4V, Apple ProRes MOV, 1080i HD, and AVCHD or any format that are supported by the player. It is easy to use and even do batch converting such as convert hundreds of files at the same time by just one click and assure you high-quality output files at the same time. So, why not have a try?
More Articles on Bigasoft.com ...
To find out more Bigasoft Solutions to enjoy your new digital life, you can go here.
Posted by Harvey Taylor. By the way, you may join me on Google+.