Play MP4 on PS3: Convert MP4 to PS3 Format for Successful Playback
Step by Step Guide to Play MP4 on PS3 (PlayStation 3)
Tags: ps3 mp4, play mp4 on ps3, ps3 mp4 playback, can ps3 play mp4, does ps3 play mp4, ps3 plays mp4, ps3 to mp4 converter, ps3 mp4 corrupted data, ps3 mp4 subtitles, ps3 mp4 playback no sound
Overview
Though MP4 is on the list of types of files that PS3 can be played, sometimes we still run in to difficulties to transfer MP4 files to PS3 and play MP4 on PS3.
Symptoms
MP4 files converted from DVD disc using some DVD converter program cannot be transferred to PS3;
PS3 says the MP4 video on USB is "unsupported data" or " corrupted data "
MP4 playback on PS3 with no sound;
MP4 files from some camera or HD camcorder like Samsung HD camcorder can be transferred to PS3 lose audio when playback.
Why fail to play MP4 on PS3?
PS3 can play MP4 video files with extension of .mp4 with video codec of MPEG-4 AVC H.264 /Xvid/DivX and audio codec of AAC. There are still some other MP4 video files are unsupported like MPEG-4 ASP.
As MPEG-4 AVC H.264 codec, support is limited to the following specifications:
AVC Profile: Baseline, Main or High Profiles
Maximum bitrate: None specified. However, if bitrate is above 20Mbps, stuttering will occur when playback
AVC Level: 4.2
No B-Pyramid and P4x4 support
4GB limit for streaming H.264 files
How to successfully play MP4 on PS3?
To successful play MP4 files that PS3 failed to see/recognize, transfer, playback or not normally playback, a better solution is to convert MP4 to PS3 supported MPEG-4 AVC codec or MPEG-2 video with Bigasoft Total Video Converter.
As a professional PS3 Video Converter, Bigasoft Total Video Converter can convert various kinds of MP4 to PS3 compatible format as well as convert many other popular video formats like MKV, MOD, TOD, F4V, WebM, OGM, FLV, WMV, AVI, WTV, RealPlayer media in RM, RMVB, etc to PS3 MPEG-4 AVC H.264 and MPEG-2 video with resolution up to 1080p. In addition, Bigasoft PS3 Converter offers editing functions including join several video into one, trim video segment, crop video to remove unwanted area, add watermark to video etc.
Step-by-step Guide to Play MP4 on PS3 (PlayStation 3)
Prepare: Free Download Bigasoft Total Video Converter
Free download Bigasoft Total Video Converter (Windows Version, Mac Version), install and run it.
Bigasoft Total Video Converter offers five minutes free trial for each file. So you can free download the copy and try it for free to test the playback and the video quality.
Step
1

Load MP4 to PS3 Video Converter

Click "Add files" button to add MP4 files to PS3 Video Converter. Or you can simply drag and drop your MP4 files to the PS3 Video Converter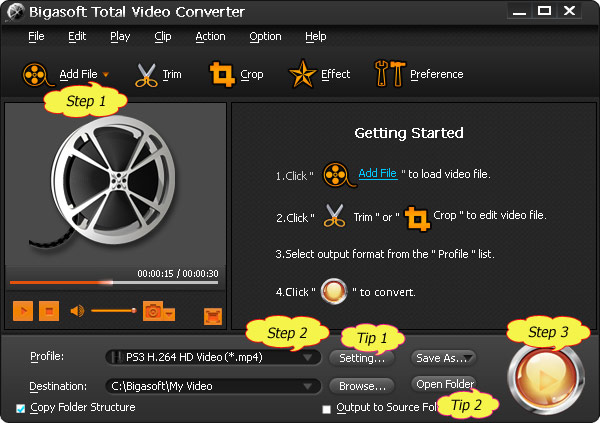 Step
2

Choose PS3 Supported formats

Click "Profile" Drop-down. From the PS3 section, choose "PS3 H.264 Video (*.mp4)".

If your source files are MP4 HD, to play high definition 1080p/720p video on PS3, you can choose "PS3 H.264 HD video (*.mp)" or PS3 MPEG-2 HD video (.mpg)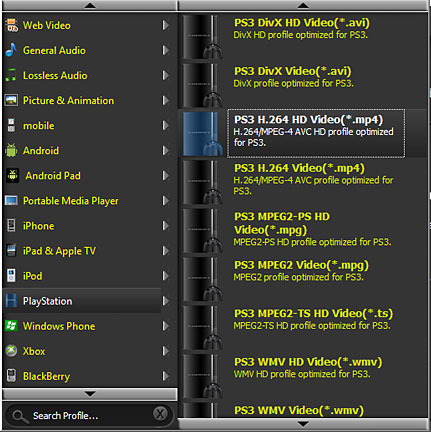 Tip 1:
Adjust video bitrate: Click "Setting" to adjust audio/video bitrate. It is optional as Bigasoft Total Video Converter already optimized the profile with just fit. However, if you want higher resolution, audio and video quality, higher audio volume, you can go there to set desired video/audio bitrate.
Step
3

Convert MP4 to PS3

Click "Convert" button to finish converting MP4 to PS3 compatible MPEG-4 AVC format.

Tip 2:
Set destination: Before converting, you can set which folder you want the converted files to put in. Click "Browse" to set desired destination folder.
Easy locate the converted file: When conversion is done, click "Open Folder" to locate the converted MP4 files and drag to your video folder.
Step
4

Transfer the convert MP4 to PS3
Method one: Use a USB Flash Drive.
Copy and paste the converted MP4 files to video folder on the first menu of the flash drive. It there isn't one, create a folder and name it video on the first menu of the flash drive.
Method two: Use the media server setting on the PS3.
Fire up Windows Media Player and turn on PS3. Click Options on Windows Media Player where you will see an unknown device (PS3) and press allow sharing to the PS3.
On the PS3, click "Apply Now" and select search media server. Windows Media Icon will automatically appear.
Click "Windows Media" icon on PS3. Find the converted MP4 files and copy to PS3.

Conclusion
Playing MP4 on PS3 now becomes so easy and saves a lot your time. Now you can watch MP4 and any other kinds of video files with almost no quality loss on your PS3. Wait now more; just free download the professional PS3 Video Converter right now and start enjoy your new digital life.
Resources
FREE Download and Start Enjoying Now (49.83MB)
Learn more about Bigasoft Total Video Converter for Mac ...

Got a Windows? Free download your copy here (20.15MB)
Learn more about Bigasoft Total Video Converter ...

More Articles on Bigasoft.com ...
To find out more Bigasoft Solutions to enjoy your new digital life, you can go here.