Create and Get Free iPhone Christmas Ringtones
Set Christmas Songs as Free Christmas Ringtones for iPhone 5S/5C/5/4S/4/3GS/3G
Tags: iphone christmas ringtones, christmas ringtone for iphone, iphone christmas ringtone, christmas ringtones for iphone, free christmas ringtones for iphone, free iphone christmas ringtones
Overview
Christmas songs or ringtones reflect the joyous spirit of Christmas! As Christmas Day draw near, ever thought to dress up your iPhone with some exciting but free Christmas songs or ringtones?
With the spirit of Christmas in mind, Bigasoft has prepared plenty of free Christmas songs for you to download here. Bigasoft also provides an easy solution to set and customize those Christmas songs as free Christmas ringtones for iPhone in the following text.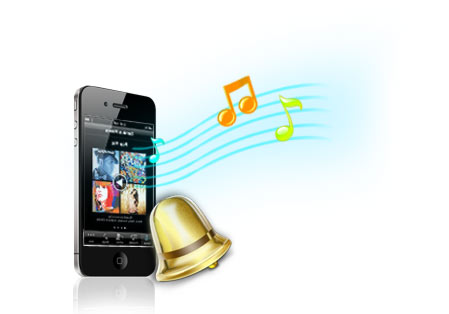 Set Christmas Songs as iPhone Christmas Ringtones
Apple gives you two options to get iPhone ringtones: pay $0.99 for a 30 second ringtone, or choose one of the standard provided iPhone ringtones. So when try to dress up your iPhone with some Christmas ringtones, you have no choice but to pay for it.
Fortunately, Bigasoft offers a more flexible and free way to get thousands of personalized iPhone Christmas ringtones: set your personal Christmas songs as Christmas ringtones for iPhone or even make your ringtones longer than 40 seconds.
Can't help setting Christmas songs like Jingle Bells, Feliz Navidad, and Christmas tree as free iPhone Christmas ringtones? If you have not Christmas songs in hand, you can download them here. The following will guide you how to set Christmas songs as free ringtones for iPhone.
Step
1

Launch Bigasoft iPhone Ringtone Maker

Free download Bigasoft iPhone Ringtone Maker (Windows Version , Mac Version ) install and run it, the following interface will pop up.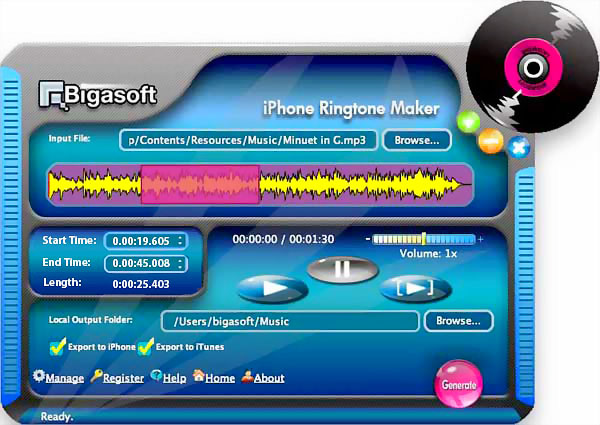 Step
2

Connect iPhone to computer

Connect iPhone to your computer through USB cable.
Step
3

Input Christmas song

Press "Browse..." button to import Christmas song to Bigasoft iPhone Ringtone Maker.
Step
4

Define which song segment will be converted to ringtone

Click "Play" button to listen to the song and find the part of it you want to use as ringtone. And then set the Start Time and the End Time by drag and release on slider to where you want.
Step
5

Convert to ringtone and transfer to iPhone

Check before "Export to iPhone" option, then click "Generate" button. Bigasoft iPhone Ringtone Maker will convert your Christmas song to Christmas ringtone for iPhone and sync to iPhone via USB cable automatically.

It is just so easy to get free Christmas ringtone for iPhone!
Conclution
With the above guide, you can make free iPhone ringtone M4R from your personal music/movie files including WMA, M4A, WAV, MP3, RA, AVI, MPEG, WMV, DivX, Xvid, MP4, H.264/AVC, AVCHD, MKV and so on. If you want to make iPhone ringtone longer than 40 seconds or even set the whole song as iPhone ringtone, or boost iPhone ringtone volume to desired level, you can found solution in Resources
Free Download Christmas Songs
Longer and more Christmas music free download website at http://www.zedge.net/ringtones/0-0-1-christmas/?searchphr=christmas&searchcat=ringtones&sug-search=0 or http://free.ringtones-download.biz/files.php?q=Free+Christmas+Xmas+Ringtones&pn=0
Resources
How to make iPhone ringtone longer than 40 seconds
How to Boost iPhone Ringtone Volume to Desired Level
Learn more about Bigasoft iPhone Ringtone Maker
Learn more about Bigasoft iPhone Ringtone Maker for Mac
More Articles on Bigasoft.com ...
To find out more Bigasoft Solutions to enjoy your new digital life, you can go here.