How to solve no audio on Chromecast with Allcast issue?
Easy to streaming MKV, MP4 files contain AC3 codec to TV connected to Chromecast
Tags: Chromecast Audio Help, Chromecast MP4 MKV Audio Out, Allcast MP4 MKV Audio
Overview
If you try to stream all your movies to your Chromecast equipped TV using your PC or Allcast, you may find some of the media files only have video but no audio played. However all these videos are MKV or MP4 which should be supported and can be played with both picture and audio on smart phone and PC. How to solve no audio on Chromecast with Allcast issue? Why the audio part can't be streamed well? What do you need to do when you discover that while the video was fine you have no audio? If you have any of the above issues, you come to the right place. In the following article, we will show you step-by-step guide to stream any media properly.
MP4 and MKV are media containers which support multiple video/audio codec. If you would like to streaming video to Chromecast equipped TV with PC or Allcast, first you need to make sure both the audio and video codecs are supported by Chromecast. According to official website, video should be encoded in H.264 or VP8 and audio part need to be saved in AAC, MP3, Vorbis, WAV or FLAC. When you find the audio part is not streamed well, you will need to convert audio track to proper codec (AAC is recommended). There are lots of media converter tools, however few converters help to fast re-encode audio track without converting video stream. In order to solve the problem playing audio of MKV, MP4 on Chromecast efficiently, we recommend you to try Bigasoft Total Video Converter. It will only take a few seconds to convert the audio part to AAC for Chromecast equipped TV and keep the original high quality picture.
Step
1
Free download Bigasoft Total Video Converter
Download and install Bigasoft Total Video Converter. Choose the right version to download, Mac version (Mac OS X 10.5-10.11) or Windows version (Windows Vista/7/8/10).
Step
2
Add the video which can't be streamed well
Launch and click "Add File" button to add the video file which you need to re-encode the audio to AAC for streaming. Or just drag and drop the video to import.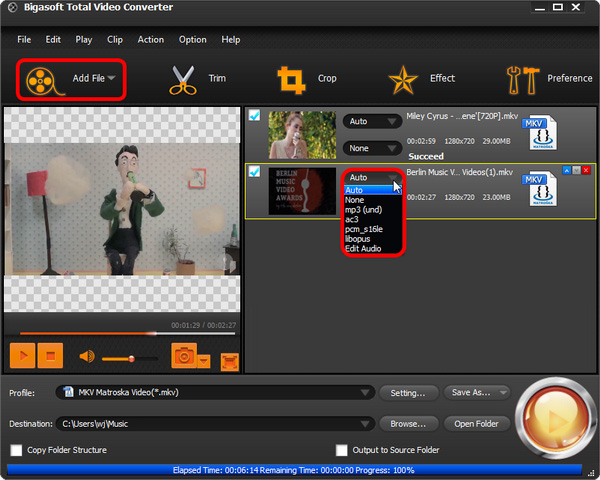 Step
3
Choose output settings
Please choose "H.264/MPEG-4 AVC Video (*.mp4)" as output profile. Then click "Settings" button next to Profile to expand "Advanced Settings" panel. There select "Copy" for Video Codec, so the software will not re-encode video part to save time. What's more, without conversion, we will not loss any video quality.
Below the video codec option, you will find Audio Codec option. Please choose AAC. If you add several videos, just click Apply to ALL to keep the settings for all videos.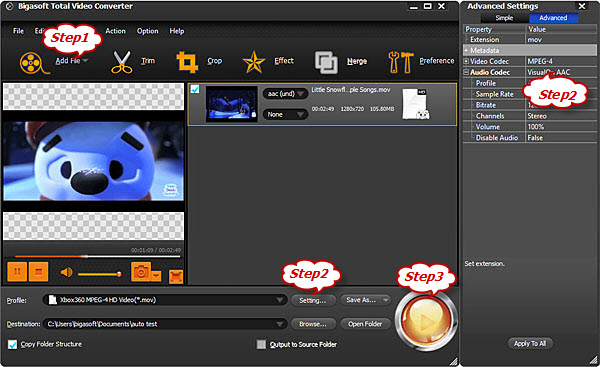 Step
4
Start the conversion
After all the above settings, just back to the main interface and click "Convert" button to start re-encoding audio track. Since the video part is not re-converted, the conversion will be finished within a few seconds. Download Bigasoft Total Video Converter to enjoy other help features now!
AllCast is an app that lets you stream videos, music, photos, or other content from an Android phone to a TV. You can use it with just about any TV connected to a Chromecast, Roku, Apple TV, WDTV, Xbox, or some other Samsung or Panasonic Smart TVs or devices with DLNA renderers.
More Articles on Bigasoft.com ...
To find out more Bigasoft Solutions to enjoy your new digital life, you can go here.
Posted by Harvey Taylor. By the way, you may join me on Google+.