Easy to Play MP4/MKV on Mac and Apple Devices
Can't play MP4 or MKV on Mac or iPad, iPhone, Apple TV? Just change the audio codec to solve all the issues.
Tags: Convert AC3 to AAC in video, Convert MP4 AC3 to AAC, Convert MKV AC3 to AAC
Overview
Both AC3 and AAC audio tracks can be contained in MKV, AVI, MP4 format containers. However, AC3 audio can't be supported in iTunes, QuickTime, Apple devices, including iPad, iPhone, AppleTV, etc. If some of your videos can't be played well by these players, maybe the audio is encoded in AC3 codec and you need to convert audio tracks to AAC which is more compatible on Mac OS and Apple portable players. In order to solve issues in playing MP4, MKV, AVI on Mac, you need to convert audio tack in media from AC3 to AAC with AC3 AAC Converter.
Bigasoft Total Video Converter is a highly recommended video/audio converter which helps to solve the bellow problems:
"When I try to watch MP4 videos with QuickTimes 7 Pro on MacBook Pro, there is absolutely no sound. The files played well on my friend's PC. Any ideas?"
"Some of my movie files contain an AC3 5.1 audio track and I have not been able to play them through iTunes or Quicktime player. I assume it is because of the AC3 audio track."
"I want to convert the audio of a few .mkvs from AC3 to AAC. But just the audio. I want to keep the video exactly as it is. Are there any programs I can do this with?"
"I have a couple hundred .mp4 files, converted using handbrake from DVDs, and they are all 6 channel AAC audio. My HT receiver cannot decode AAC but it can decode AC3. I know how to convert single AC3 to AAC. But for a couple hundred files that would get old very fast. How to batch convert AAC to AC3 and leave the video untouched?"
"I had a friend with a BluRay drive extract the audio from my copy of a concert BluRay disc into AC3 files which he returned to me, but now I'm not sure what the best way would be to convert those AC3 files into AAC files."
Make Preparation: Free Download and run AC3 AAC Converter
Bigasoft Total Video Converter is a professional media converter which is designed to convert between all video and audio files. Acting as an ideal AC3 AAC Converter, it helps to batch convert audio tracks in MP4, MKV, AVI from AC3 to AAC leaving the video untouched to keep the best quality. Besides, it is also possible to remove, edit or add new audio track to video. In this guide, we will show you how to solve issues in playing MP4, MKV, AVI in iTunes, QuickTime, iPad, iPhone or Apple TV, etc.
Firstly, download and install Bigasoft Total Video Converter. Choose the right version to download, Mac version (Mac OS X 10.5-10.11) or Windows version (Windows Vista/7/8/10).
Step
1
Add the video which can't be played on Mac
Click "Add File" button to add the video file which you need to change the audio from AC3 to AAC. Or just drag and drop the video to import.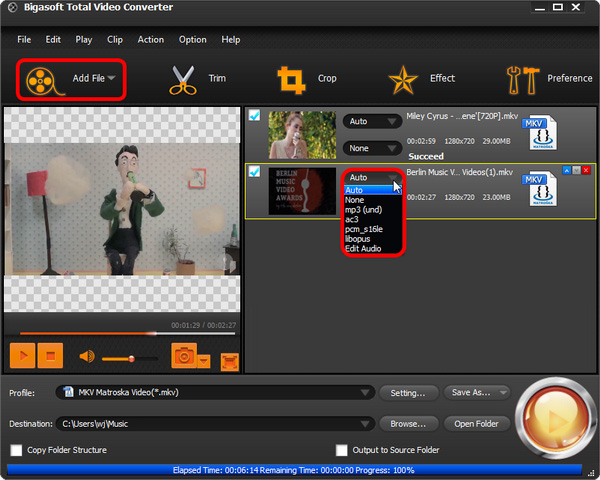 Step
2
Choose output settings
You can click "Audio Track" triangle icon and choose each audio track to preview.
Choose the same video format as output profile. Then click "Settings" button next to Profile to expand "Advanced Settings" panel. There select "Copy" for Video Codec, so the software will not re-encode video part to save time. What's more, without conversion, we will not loss any video quality.
Below the video codec option, you will find Audio Codec option. Please choose AAC. If you add several videos, just click Apply to ALL to keep the settings for all videos.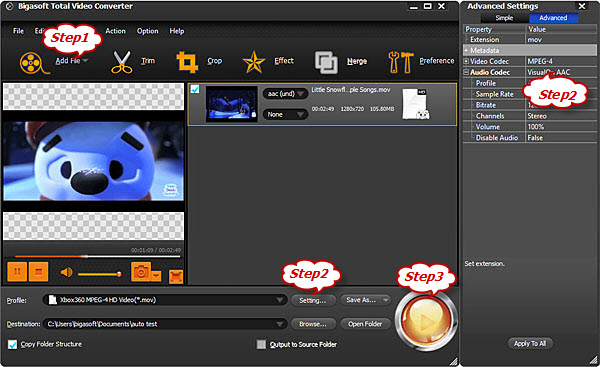 Step
3
Start the conversion
After all the above settings, just back to the main interface and click "Convert" button to start re-encoding audio track. Since the video part is not re-converted, the conversion will be finished within a few seconds. Download Bigasoft Total Video Converter to enjoy other help features now!
More Articles on Bigasoft.com ...
To find out more Bigasoft Solutions to enjoy your new digital life, you can go here.
Posted by Harvey Taylor. By the way, you may join me on Google+.