CUE Splitter for Mac - Cut/Split CUE based MP3, APE, WAV, FLAC on Mac, Lion, Mountain Lion and Mavericks
Split CUE as well as Convert CUE Associated Music Files to Desired Audio Formats
Tags: cue splitter mac, mac cue splitter, split cue mac, split cue lion, split mp3 cue mac, split wav cue mac, split ape cue, os x lion, mountain lion, cue splitten, cut cue, cut cue mp3, os x mountain lion, os x mavericks
Overview
Have lots of long podcasts, music, songs in MP3, WAV, APE or FLAC and want to split or cut them into shorter tracks? If your audio file have a CUE associated with it, splitting your music files will be much easier by the help of the smart Bigasoft CUE plitter for Mac.
This article solves:
Split CUE associated MP3, APE, WAV, and FLAC with CUE on Mac Tiger, Leopard, Snow Leopard, Lion, Mountain Lion, and Mavericks;
Split CUE associated MP3, APE, WAV, FLAC with CUE on OS X Lion, Mountain Lion and Mavericks;
Split CUE associated MP3, APE, WAV, and FLAC with CUE as well as convert to desired audio formats;
If you aim to split CUE on Mac without conversion, this article will not suit you.
To split CUE on Windows PC, download CUE splitter for Windows here.
Introduction to CUE Splitter for Mac
Besides acting as a professional audio converter and video to audio converter, Bigasoft Audio Converter is also a smart CUE splitter. As a Mac CUE splitter, it can cut or split MP3, APE, WAV, APE, FLAC, etc using an associated CUE sheet to short tracks with names and ID3 tag information preserved.
In addition to split songs by CUE, Bigasoft Audio Converter also allows you to cut long music file to smaller parts by the help of its "Trim" function if your audio file does not have a CUE file attached.
Step-by-Step Guide to Split CUE MP3, APE, WAV, FLAC on Mac
Make Preparation: Run Bigasoft Audio Converter for Mac
Free Download Bigasoft Audio Converter for Mac. Install and launch the application.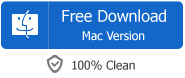 Step
1

Add Files

Click "Add files" to browse and open your audio files (like MP3, APE, WAV, FLAC, etc). Bigasoft Audio Converter does not require loading the CUE files to the interface. So just add your music files to the Converter.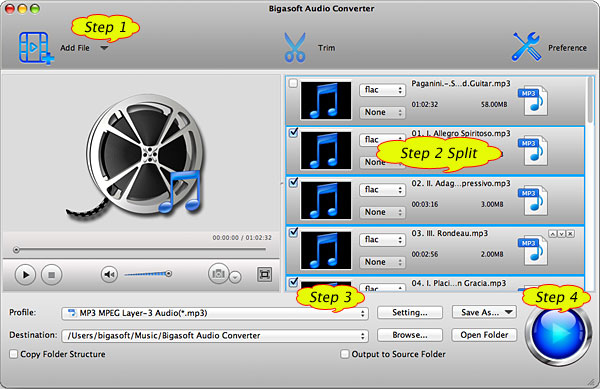 Step
2

Split Music File Based on CUE Sheet

When your music files are added, use the mouse to select all the music files or press Ctrl+A on Windows PC or Command+A on Mac computer.
Open the context menu.
For Windows users, right click the mouse to open the context menu.
For Mac users, press Ctrl and click the mouse to open the context menu.
Click "Split by Chapter" in the context menu in the task list, the long and large music files will be automatically split to tracks.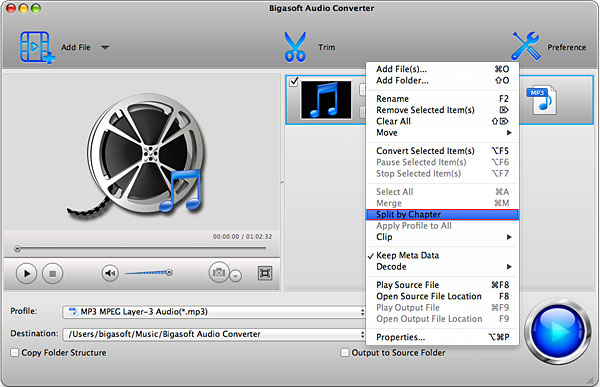 Now the music file is split to short tracks: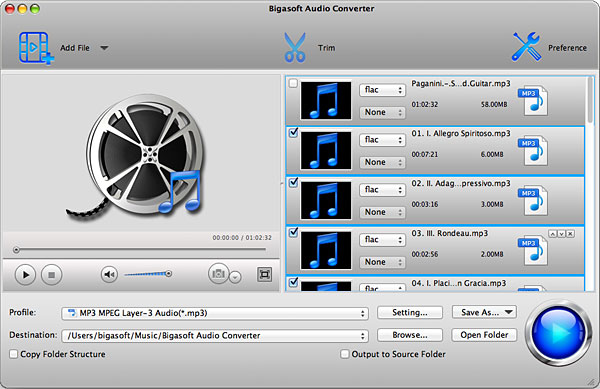 Tips:
To ensure the Mac CUE splitter can split your music files, the .cue files shall be in the same folder as your music files.
Step
3

Set Output Audio Format

Take split APE CUE to MP3 for example, Click the "Profile" Drop-down list and choose MP3 - MPEG Layer-3 Audio (*.mp3) as the profile from "Audio" category. Click "Browse" to choose the folder where you want to put the converted files.

Click "Settings" to open the "Advanced Setting" window where you can change audio bitrate, audio channels and volumes.
Step
4

Start Splitting and Converting

Press on the big blue "Convert" button. The Mac CUE splitter will start splitting CUE based APE, MP3, WAV or FLAC to short tracks as well as convert them to wanted audio formats.
Conclusion
Converting and splitting music files either in APE, MP3, FLAC, WAV, etc. makes it easy for you to better access specific song, take control of disc size or the CD size if you want to burn songs to CD. Download the free trial right now and enjoy!
Resources
FREE Download and Start Enjoying Now (47.82MB)
Learn more about Bigasoft Audio Converter for Mac ...

More Articles on Bigasoft.com ...
To find out more Bigasoft Solutions to enjoy your new digital life, you can go here.