How to make personalized BlackBerry ringtones with Bigasoft BlackBerry Ringtone Maker
Create Your Own BlackBerry Ringtone
Tags: Make BlackBerry ringtones, iphone, itunes, mobile phone, mp3, ringtone, free download, bigasoft
Overview
Bigasoft BlackBerry Ringtone Maker helps you to convert MP3, AVI, MPEG, WMV, DivX, MP4, H.264/AVC, AVCHD, MKV, RM, MOV, XviD, 3GP, WMA, WAV, RA, M4A, etc. to BlackBerry ringtones MP3, and transfer the unique ringtones to your BlackBerry Q10, BlackBerry Curve and more.
Create your own new BlackBerry ringtone, you only need 3 steps. It is dead easy! All your needs are a BlackBerry (of course), Bigasoft BlackBerry Ringtone Maker, Memory Card, and swag of music files or video files.
Free Download and launch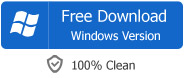 Firstly, Free Download Bigasoft BlackBerry Ringtone Maker and launch the software. Then, the following main interface pops up.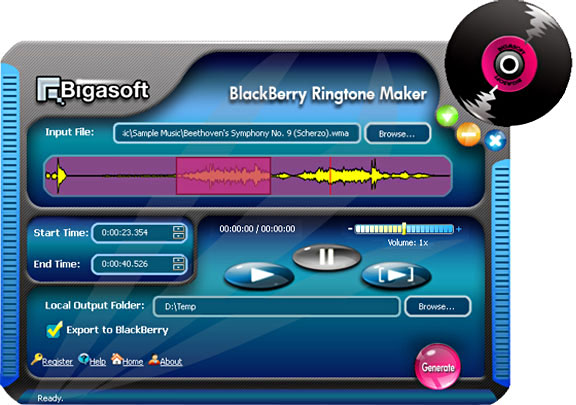 Ready? Now let's start to make custom ringtone step by step.
Step
1

Select

Click "Browse..." buttton on the right side of "Input File", and select your favorite song that you want to make ringtone from it.

Tips: You can drag and drop your favorite song from Windows Explorer or iTunes into the main interface directly.
Step
2

Preview

Click "Play" buttton to listen the music to find the segment that you want to use it as ringtone.

Then set the start time and the end time by dray and drop on slider to what you want.

You may click "Preview" button to pre-listen the converted audio before transfer to blackberry.
Step
3

Transfer

Be sure that the "Export to BlackBerry" option is checked and your BlackBerry is connected to your PC.

Then click "Generate" button.

Congraturations, All Done! It's so easy.
Relax to enjoy
Where is my new ringtone in BlackBerry?

Scroll over to the media icon with your trackball and click on it once to open the application. Find the ringtone icon and click on it, Your new custom ringtone made with Bigasoft BlackBerry Ringtone Maker stays in there.

How to set my new ringtone as primary ringtone in BlackBerry?

Find the ringtone icon and click on it to see a list of your available ringtones. Set ringtone by pressing the BlackBerry menu button and selecting the "Set as Ringtone" option. Share your greate music taste with your friends now.

How to assign a specific ringtone to individual contacts in BlackBerry?

Firstly, select address book, then highlight the contact you'd like to add the ringtone to. Press on the Menu key and select "Edit". Secondly, click "Add Custom Phone Tune" and set a ring tone. Finally, press the Menu key and click "Save".
Resources
FREE Download and Start Enjoying Now (7.17MB)
Learn more about Bigasoft BlackBerry Ringtone Maker ...

Got a Mac? Free download your copy here (18.73MB)
Learn more about Bigasoft BlackBerry Ringtone Maker for Mac ...

More Articles on Bigasoft.com ...
To find out more Bigasoft Solutions to enjoy your new digital life, you can go here.