MVI Converter - Easy Way to Convert MVI to AVI, WMV, MOV, MPEG, MKV on Windows and Mac
Step by Step Guide on How to Convert MVI, HD MVI, Canon PowerShot MVI to All Popular Video Formats
Tags: MVI Converter, mvi video converter, mvi to avi, convert mvi to avi, mvi to wmv, mvi to mpeg, mvi to mov
Overview
This article talks about how to convert two kinds of MVI video files to various video formats. One is Canon camera videos with a name beginning with "MVI_ XXXX." The other is MVI video on the MVI discs.
Canon PowerShot camera videos with a name beginning with "MVI_ XXXX." actually is not new format video. It is AVI videos.
MVI format video on the MVI discs is DVD-based format loaded with a full album's worth of music, compelling video content plus a variety of exciting interactive features (for example lyrics).
Troubleshooting with MVI files
Although Canon PowerShot camera videos are in AVI format, Canon PowerShot camera users usually have problem of importing such MVI files to Windows Movie Maker, iMovie for edit and transfer the Canon PowerShot to iPad, iPod, PSP, PS3, Xbox and other portable devices for enjoy on the go. It is because AVI (Audio Video Interleave) is a multimedia container format that may contains different audio and video codec that Windows Movie Maker, iMovie and other application such as Microsoft PowerPoint cannot recognize.
For users who want to convert MVI videos on MVI disc, they always failed because most of the video converters will not accept such video format. Some video converters may accept but can only convert part of the video.
Solutions
No matter your video file is Canon PowerShot video named with "MVI_ XXXX." or your video files are with MVI extension, if you are in trouble of playing and transferring them to applications, portable devices, converting the MVI to AVI, a much more versatile and compatible format on windows PC is recommended and converting the MVI to MP4 is recommended if you use a Mac. Others users may have specific needs like convert MVI to MPEG and convert MVI to WMV, MOV, MKV, etc.
Step
1

Preparation: Run MVI Converter

Free download Bigasoft Total Video Converter ( Windows Version , Mac Version ), install and then launch the software.

Bigasoft Total Video Converter, works as a professional MVI Converter, helps to fast and batch convert MVIF to all video formats including convert MVI to AVI, WMV, MOV, MPEG, MKV, M4V, MP4, etc. In addition to convert MVI, it can also help to convert between popular video and audio formats, and convert MVI video to MP3 and other audio formats.
Step
2

Add MVI file to MVI Video Converter

Method 1: Press "Add File" button to locate and open your MVI files

Method 2: Drag the folder where your MVI files are to the MVI Converter

Method 3: Drag MVI files to the MVI Converter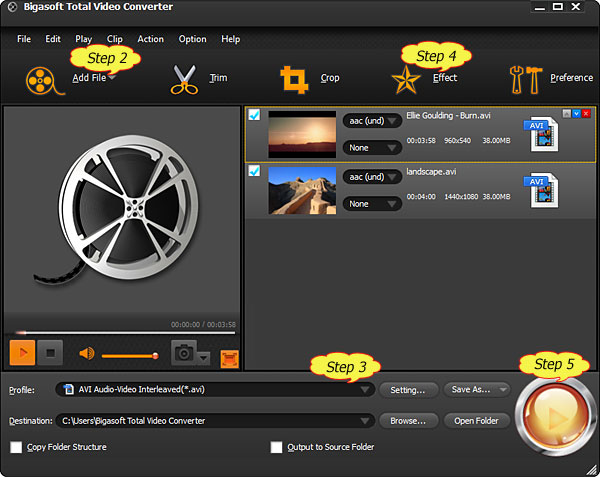 Step
3

Set output format

Set output profiles to AVI, MP4 or other of you desired video formats and define the destination folder.

Click the drop-down button right beside "Profile". Set the output file as " AVI - Audio-Video Interleaved (*.avi) " or you desired video formats from the "General Video" category.

Click "Browse" to specify the destination folder.
Step
4

Advanced setting for converting MVI files

Bigasoft Total Video Converter is powered with advanced settings to customize the output video.

"trim" will help you to trim unwanted audio parts by setting the start time and end time.

With "Merge" feature, you can merge several MVI files and convert to AVI, MP4 etc with integrated one file.

With "Crop", you can cut out the unwanted area to enhance your videos.

Adjust audio quality to normal, higher or lower quality.

Adjust audio volume to desired level. You may set the volume ratio in the "Advanced Settings" Window.
Step
5

Convert MVI

Press "Convert" button to start the MVI conversion. It will be finished with high output quality and fast converting speed.
Conclusion
Converting MVI to AVI, WMV, MOV, MPEG, MKV, MP4, etc is just that easy and fast with the smart MVI Converter. After the MVI conversion is done, locate the converted file in the folder you specified and go ahead to import to Windows Movie Maker, iMovie, PowerPoint and other applications or transfer them to your portable devices to enjoy your work now!
Resources
FREE Download and Start Enjoying Now (9.03MB)
Learn more about Bigasoft Total Video Converter ...

Got a Mac? Free download your copy here (22.66MB)
Learn more about Bigasoft Total Video Converter for Mac ...

More Articles on Bigasoft.com ...
To find out more Bigasoft Solutions to enjoy your new digital life, you can go here.