How to Insert iMovie Video into Microsoft PowerPoint Presentation?
Embed iMovie Video Clips into PowerPoint Presentation with Ease
Tags: iMovie Video to Powerpoint, powerpoint mac, insert, embed, imovie video, microsoft powerpoint presentation, best-solution-to-put-youtube-video-in-powerpoint
Overview
This article describes how to insert iMovie (including iMovie '11/'09/'08) video into PowerPoint Presentation on Mac and embed iMovie video clips into PowerPoint Presentation. The inserted video can be played on any Mac and PC. You will never be afraid you or your PPT viewers cannot play your elaborate PPT video.
According to Microsoft official site, one could not insert iMovie video because the video format is what PPT does not support to be embedded. PPD compatible video formats include files with the extension of .asf, .avi, .mpg, .mpeg, .wmv, .wmv, .asf, .avi files are unplayable on a Mac. The .mpg files can be played on both PC and Mac. Thus .mpg is the idea format for us to insert into PowerPoint Presentation which can be played on both a Mac and PC.
you will need:
Download Bigasoft Total Video Converter for Mac and run it.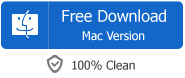 Make preparation: Export iMovie video that you want to insert into PPT
In iMovie, open your project and locate and open the iMovie project that you want to export.
Click "Share" On the File menu, select "Export using QuickTime". In the pop up window, name your movie and choose the folder where you'd like to save it. From the Export dropdown, select Movie to MPEG-4. Close iMovie after the movie is finished saving.
Step
1

Run Bigasoft Total Video Converter for Mac and add files

Click the "Add File" button or directly drag the exported iMovie video clip to import iMovie video.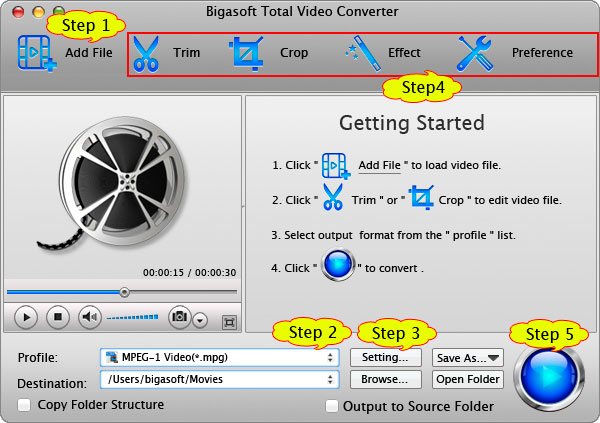 Step
2

Set profile to MPEG-1.

From the profile list, choose MPEG-1 Video (*.mpg) from the "General Video" category.
Step
3

Set MPEG-1 video resolution to 640 by 480

In the "Settings..." windows, select 640*480 from the "Resolution" drop list. You may set lower or higher resolution if you want superior or inferior video quality.
Step
4

Customize iMovie MPEG-4 to MPEG-1 video (Optional)

Click "Trim" button, you can achieve converting only your wanted clips by setting the start time and the end time.

Click "Crop" button, you can cut off the black edges of the original movie video.

Click "Effect" button, you can customize video like adding watermark, subtitle, audio track, artistic effects.

Click "Preference" button, you can finish setting output effects, image type, CPU usage and action after conversion done, etc as you like.

To join several chapters into one, click "Merge into one file" from context menu option.
Step
5

Convert MPEG-4 to MPEG-1

Set the destination folder and click "Convert" button to convert iMovie MPEG-4 format to MPEG-1.
Step
6

Insert iMovie video into PPT

Create a folder which contains both your PowerPoint presentation and any embedded movies as separate files to keep the required linked relationship between both PowerPoint and multimedia files.

Now, you can insert the converted MPEG-1 video into PowerPoint and embed iMovie to PowerPoint on Mac or on PC. To insert iMovie (including iMovie '11/'09/'08) video into PowerPoint can be achievable by the assist of Bigasoft Total Video Converter for Mac so easily. You can realize to insert any video clip beyond .asf, .avi, .mpg, .mpeg, .wmv, be it YouTube video, FLV, MKV, MP4, etc to PowerPoint and embed the video.
Resources
FREE Download and Start Enjoying Now (23.39MB)
Learn more about Bigasoft Total Video Converter for Mac ...

More Articles on Bigasoft.com ...
To find out more Bigasoft Solutions to enjoy your new digital life, you can go here.