The best way to convert wav to ac3- Bigasoft Audio Converter
Tags: convert wav to ac3, easily
Overview:
This article is going to show you why and how to convert WAV to AC3.
If you are a music lover or high fidelity enthusiast, you must be familiar with WAV or WAVE files. But do you know what exactly is wave or wav files?
Waveform Audio File Format (WAVE, or more commonly known as WAV ) is a Microsoft and IBM Audio file format standard for storing an audio bit-stream on Pcs. It is an application of the Resource Interchange File Format(RIFF) bit-stream format method for storing data in "chunks". It is the main format used on Windows systems, suitable for retaining first generation archived files of high quality. However, the size of file in wav is large due to its high quality. The WAV format is limited to files that are less than 4 GB, because of its use of a 32-bit unsigned integer to record the file size header (some programs limit the file size to 2 GB). The size of a one minute, 44kHZ,16bit Stereo WAV file is about 10MB.
To summarize: WAV (WAVE) is an audio format of high quality but large size.
So people always have to convert Wav to MP3, M4A, WMA, APE, FLAC, OGG, APE, MP2, VQF, AAC, AUD, AIFF, CAF or AC3. In my opinion, sometimes, or some kinds of music are best enjoyed with hi-fi. Imagine yourself in your LEXUS running along the seaside with your dog, or lying in your room with home theatre and popcorn and soda around. Quite a treat, right? Then AC3 will be the best output format.
AC3 (Dolby Digital) is the name for audio compression technologies developed by Dolby Laboratories. It was originally named Dolby Stereo Digital until 1994. This audio compression is lossy. The first use of Dolby Digital was to provide digital sound in cinemas from 35mm film prints. It is now also used for other applications such as HDTV broadcast, DVDs, Blu-ray Discs and game consoles. AC3 provides 5.1 (five full bandwidth channels and one low-frequency effects channel, the "point one") soundtracks to carry a sixth, center back surround channel for improved better sound effects.
If you want to have a try, Bigasoft Audio Converter will show you the easiest way to do it.
First, make preparation by downloading and launching Bigasoft Audio Converter.
Second ,three steps to convert WAV to AC3.
Step 1 Choose the audio you want to convert.
Step 2 Choose the output format AC3.
Step 3 Covert.
Then, help yourself and enjoy.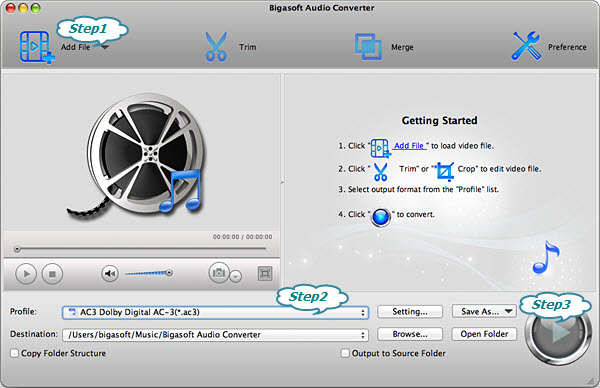 Conclusion:
Bigasoft Total Audio Converter is the easiest way to convert wav to ac3. It is also a powerful video to audio decoder helps easily extract audio from video files like MP4, MOV, AVI, MPEG, MPG, 3GP, DivX, Xvid, ASF, VOB, MKV, WMV, H.264, 3G2, FLV, MOD, TOD, MTS, WTV, WebM, etc. and then convert to any audio format as you will, such as convert YouTube to MP3, convert MOV to MP3, and more. The music converter for Mac helps easily convert between popular and common audio formats such as M4A, WMA, APE, WAV, FLAC, OGG, APE, MP2, VQF, AAC, AUD, AIFF (Audio Interchange File Format), CAF (Core Audio Format), and more..
More Articles on Bigasoft.com ...
To find out more Bigasoft Solutions to enjoy your new digital life, you can go here.
Posted by Harvey Taylor. By the way, you may join me on Google+.