Conversion Between MP3 and AAC on Mac
Bigasoft Audio Converter-A powerful and easy way to convert between MP3 and AAC
Tags: mp3 to aac, aac to mp3, audio convertor, convenient, convert between mp3 and aac
Overview:
Bigasoft Audio Converter for Mac is a very convenient way to convert MP3 to AAC files, and vice versa. Actually, not only for MP3 to AAC files, it can convert from multiple audio or video fromats to AAC, such as MP3 to AAC, MP4 to AAC, WMA to AAC, OGG to AAC, APE to AAC and more on Mac OS X Lion, Snow Leopard, Tiger, Mavericks and Yosemite. This MP3 AAC Converter can also helps to convert any audio formats from/to MP3.
Besides, it helps to extract audios from video files like MP4, MOV, AVI, MPEG, MPG, DivX, Xvid, ASF, VOB, MKV, WMV, H.264, FLV, MOD, TOD, MTS, WTV, WebM, etc. and then convert to AAC, MP3 or any audio formats that you want, such as convert YouTube to MP3, convert MOV to MP3, convert MP4 to AAC, and more. If you want to make an album of songs from videos you like, you can just choose all of the audios extracted from videos and click "Merge" button.
If you want to spilt MP3, AAC or WMA, MP3, APE, M4A, WAV, OGG, AUD, AIFF, CAF, FLAC files, you can trim to keep the part you want or split by chapters according the cue file. It is the most powerful as well as easy tool to convert MP3, AAC files. Now let's take MP3 to AAC for example and learn how to convert between different formats.
Step by Step guide to conversion between MP3 and AAC files
Preparation : Free Download Bigasoft Audio Converter for Mac
After installing, all you need are three steps to convert between MP3 and AAC.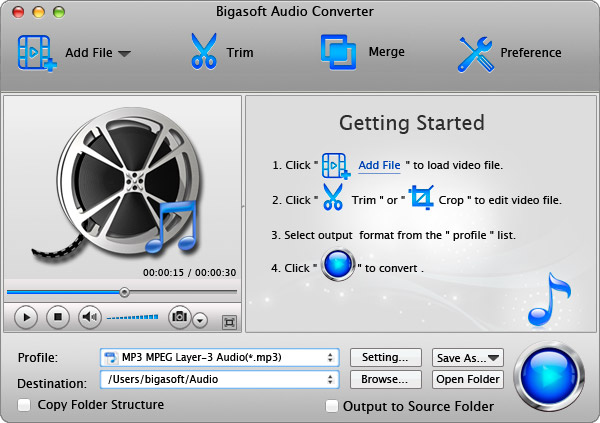 Step
1

Upload the audio files into Bigasoft Audio Converter.

Method 1 Drag the MP3 files that you want to convert into AAC format (vice versa) into the right side of the interface.

Method 2 Add the file through "Add file" button, and then choose from popup windows.
Step
2

Set the output format through the right side of Profile button, then click "General Audio" and choose "AAC Advanced Audio Coding (.aac)"

Tip 1: you can choose different output formats as you wish, but usually formats under Lossless Audio are of better quality but also larger size than that under General Audio.

Tip 2: User defined can be very powerful when needed. For instance, if you want to make many audios the same database that can be applied to your device, you can set one of them and then choose it as the output formats for the others. It will be much easier than set them one by one.
Step
3

Click the Convert button on the bottom of right side, and, done!

Tip 1: you can put in several files and click all of them and they will convert automatically one by one and this sure will save you time and energy.

Tip 2: you can save the file anywhere you like by clicking Browse button, right to the Destination button

Tip 3: after converting, you can open the files by click Open Folder.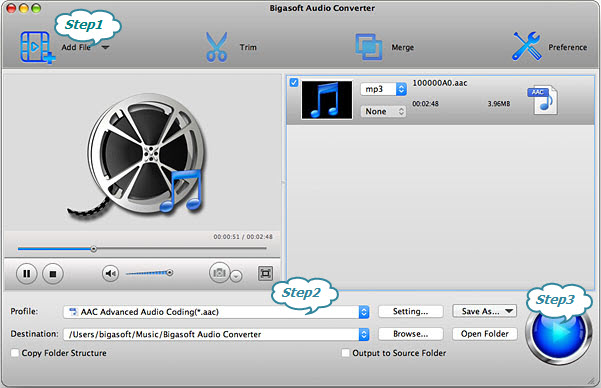 Conclusion:
Bigasoft Audio Converter for Mac is an easy and powerful way to convert MP3 to AAC and between various formats, such WMA, MP3, APE, M4A, , AC3, WAV, OGG, AUD, AIFF, CAF, FLAC files. But adjectives such as "easy" or "powerful" may be just personal opinion, so why not try it yourself by converting MP3 to AAC. Let's see whether it is really that good. Anyway, people who have used it have all the power to say. If you have any questions or opinions, feel free to contact us
More Articles on Bigasoft.com ...
To find out more Bigasoft Solutions to enjoy your new digital life, you can go here.
Posted by Harvey Taylor. By the way, you may join me on Google+.