Audio Bit Depth Converter - How to convert 24-bit FLAC to 16-bit FLAC on Mac or Windows?
Tags: bit depth converter
Why we need to convert 24-bit to 16-bit audio?
Nowadays, we can get 24-bit FLACs classical music downloaded from websites and that's the highest quality they can offer. Undoubtedly, the quality of 24-bit FLAC is higher that CD. However, not many players can fully support such 24-bit FLAC audio and few people can hear the difference between 24-bit and 16-bit without professional acoustic equipment. So sometimes, in order to play the 24-bit FLACs with your local player on Mac/Windows, portable media devices or burn 24-bit audio to CD, converting such 24-bit FLACs to 16-bit FLACs or other audio formats, such as AIFF or MP3 is necessary.
The following article will introduce a powerful Audio Converter which can help you adjust the sample rate and bit depth easily as well as keep the best quality. All of the following demand or issues will be solved using Bigasoft Audio Converter for Mac.
I have a set of 24-but FLAC files on my hard disk that I want to convert to 16-bit for use on an audio CD.
Tried to play 24-bit FLACs with my local player but got error message.
iPods/phones don't support 24/96 files. I think the the highest it will go is 16/44. Whats the best way to convert 24/96 FLAC to Apple Lossless with minimal loss of quality?
Is there a quick and dirty way (on Windows or Linux) of batch converting 24-bit/96kHz FLAC files to 16bit/44.1kHz FLAC files while retaining the tags?
How to convert 24-bit/96kHz to 16-bit/44.1kHz?
Firstly, download the ideal Bit Depth Converter - Bigasoft Audio Converter for Mac, install and launch. If you want to transcode FLAC to WAV on Windows PC, try this Audio Converter Windows version.
Step
1

Add 24-bit FLAC into Bit Depth Converter

Click "Add File" button and select the FLAC file from the pop up window or just drag and drop the audio to the main interface.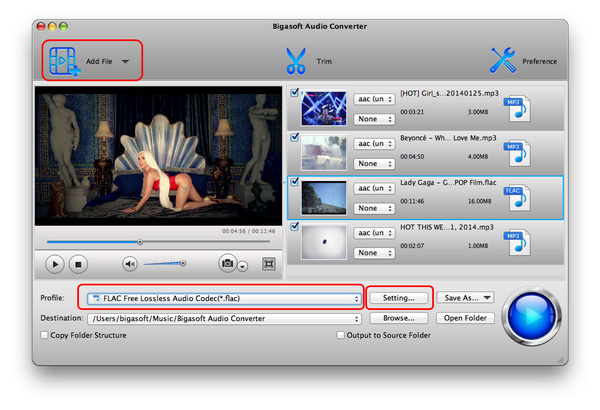 Step
2

Select output profile

Here we take 24-bit to 16-bit FLAC conversion for example. Choose FLAC Free Lossless Audio Codec(*.flac) and click "Setting" button to open the "Advanced Settings" tab. Then go to the tab and choose "s16" for Bit Depth option and "44100" for Sample Rate.
Step
3

Start the converting

After all settings done, click the "Convert" button to start the conversion from 24-bit/96kHz to 16-bit/44.1kHz FLAC.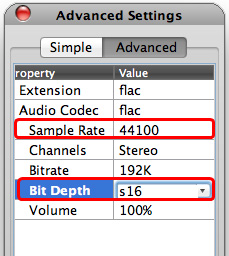 With Bigasoft Audio Converter for Mac which has the ability to convert sample rates and bit depth, it is easy to convert 24-Bit FLACs to 16-Bit/44.1kHz for audio CD or iPod use as well as play 24-bit FLACs with local player, such as Windows Media Player, iTunes and more.
More about high-resolution audio file formats:
High-resolution audio has a higher sampling frequency and bit depth than CD. There are several high-res audio file formats, such as FLAC (Free Lossless Audio Codec) and ALAC (Apple Lossless Audio Codec). Though these two formats are compressed but in theory no information is lost and keep the 100% quality.
High-resolution audio files usually use a sampling frequency or 96kHz or 192kHz at 24-bit, but you can also have 88.2kHz and 176.4kHz files too.
More Articles on Bigasoft.com ...
To find out more Bigasoft Solutions to enjoy your new digital life, you can go here.
Posted by Emily Moore. By the way, you may join me on Google+.