MP3 Bitrate Changer - Change/Reduce/Lower/Increase MP3 Bitrate Easily
Audio Bitrate Converter - Increase Audio/Video Bitrate for Better Quality or Lower/Reduce Audio WAV/MP3/WMA/FLAC/AIFF Bitrate or Video MKV/AVI/ MP4/WMV/MOV/VOB Bitrate Freely
Tags: mp3 bitrate converter, mp3 bitrate changer, bitrate converter, change mp3 bitrate, how to change bitrate of mp3, reduce mp3 bitrate, lower mp3 bitrate, audio bitrate converter, change bitrate of wav, change audio bitrate
Overview
It is known that bitrate is related to video/audio quality and size. When we need to increase the video/audio quality or reduce the video/audio size, we need to adjust the video or audio bitrate. How can we change audio/video bitrate? Is there a bitrate converter that can change bitrate of audio and video? The answer is YES. The following article will introduce a bitrate converter as well as a detailed guide on how to change bitrate of audio MP3, WAV, WMA, AIFF, OGG, FLAC and more and video bitrate MP4, MKV, FLV, MOV, VOB, AVI and more.
The Powerful Bitrate Converter
Bigasoft Total Video Converter, the nice Video and Audio Bitrate Converter, can change audio bitrate with ease. The powerful bitrate converter can change all audio and video bitrates like change MP3 bitrate, change WAV bitrate, change MP4 bitrate, change AVI bitrate, change FLAC/AIFF/OGG/WMA/MKV/VOB/AVI/FLV etc. bitrate. This powerful tool can also be called MP3 Bitrate Converter, MP3 Bitrate Changer, WAV Bitrate Changer and more. This wonderful MP3 Bitrate Converter provides solution to merge files, trim files, cut off files, rotate files, add or remove watermarks, add or remove subtitles and so on.
Noticeable Features of MP3 Bitrate Converter
Change audio bitrate of MP3, WAV, AAC, AC3, WMA, FLAC, OGG, AIFF and etc.
Change video bitrate of AVI, MKV, MP4, MOV, WMV, MPEG, Xvid, DivX, H.264, 3GP, RM, WTV, MXF, MVI, F4V, Apple ProRes MOV, WebM, VP8, 720p, 1080p, 1080i HD, AVCHD videos and more.
Change audio bitrate to 32, 40, 48, 56, 64, 80, 96, 112, 128, 160, 192, 224, 256, 320 and more.
Change video bitrate to 512, 640, 768, 894, 1000, 1200, 1500, 2000, 3000 and more.
Change and convert video and audio bitrate easily with audio bitrate converter.
Reduce or lower audio or video bitrate to iPad, iPod, iPhone, Blackberry, PSP, PS3, Xbox 360, Creative Zen, Zune, and many other portable devices.
Increase audio or video bitrate or video quality to iTunes, Apple TV, QuickTime, Windows Media Player etc.
Change video or audio bitrate to upload files to YouTube, Facebook, and other popular websites.
Change bitrate of videos and audios to video editing tools or to burn DVDs.
MP3 Bitrate Converter for Windows is compatible with all Windows systems including Windows 8, Windows 7, Windows XP, Windows Vista, and Windows 2000.
Bitrate Converter for Mac has support for Mac OS X 10.9 (Mavericks), 10.8(Mountain Lion), 10.7(Lion), 10.6(Snow Leopard), 10.5(Leopard), 10.4(Tiger).
How to Change Bitrates of Videos and Audios?
The following article will provide a step by step guide on how to change/reduce/lower/increase audio and video bitrates with the professional music bitrate converter.
Preparation: Free download Bitrate Converter
Free download the good MP3 Bitrate Converter - Bigasoft Total Video Converter (For Windows, For Mac) to your computer. Install and run it.
Step
1

Import Videos and Audio Files to MP3 Bitrate Changer

Click "Add File" button to add the files to music bitrate converter.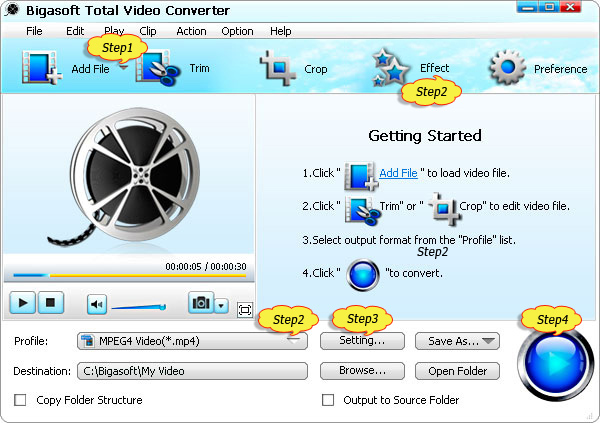 Step
2

Set the Output Format You Want

Click "Profile" drop down button. Choose the file format you want.

To edit files, you can go to the "Effect" window to do some basic editing.
Step
3

Change Audio Bitrate of MP3/WAV/FLAC/ MOV/MP4/AVI/MKV/VOB ect.

To change the audio bitrate, go to "Setting..." -> "Audio" -> "Audio Bitrate" and choose the audio bitrate you prefer like 320, 128 or others.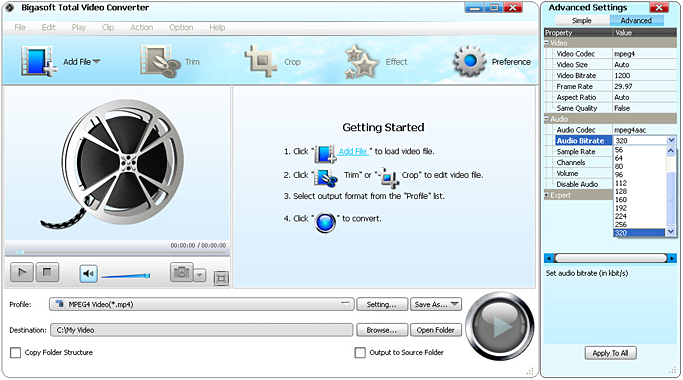 To change the video bitrate, go to "Setting..." -> "Video" -> "Video Bitrate" and set the audio bitrate you prefer like 3000, 768, or others.
Step
4

Convert Files with MP3 Bitrate Converter

Click the "Convert" button to convert the files.

When the conversion is done, click "Open Folder" button to get them.
Conclusion
Bitrate Converter is a quite nice choice to change audio and video bitrates to freely enjoy files. Free download the powerful audio bitrate converter to start enjoying now.
Resources
FREE Download and Start Enjoying Now (20.15MB)
Learn more about Bigasoft Total Video Converter ...

Got a Mac? Free download your copy here (49.83MB)
Learn more about Bigasoft Total Video Converter for Mac ...

More Articles on Bigasoft.com ...
To find out more Bigasoft Solutions to enjoy your new digital life, you can go here.
Posted by Harvey Taylor. By the way, you may join me on Google+.