The best way to convert WMA to WAV file- Bigasoft Audio Converter will show you how.
Tags: convert WMA to WAV file
Overview:
Both WMA and WAV are audio technologies developed by Microsoft, yet they are quite different from each other. So with different purposes sometimes we have to convert wma to wav file or vice versa.
I think it would be necessary to learn something about WMA and WAV before we talk about how to convert wma to wav file.
What is WMA?
WMA, full name Windows Media Audio, is an audio compression technology developed by Microsoft.
For an audio format, the first thing we might want to know is its sound quality. Microsoft claims that audio encoded with WMA sounds better than MP3 at the same bit rate and that audio encoded with WMA at lower bit rates sound better than MP3 at higher bitrates. Well, according to tests, the truth is:
At 32 kbit/s WMA Standard was noticeably better than MP3. At 128 kbit/s, both WMA and MP3 sound close to the uncompressed music file for most listeners,but some people might feel that WMA would be "suitable for rock, but not for classic or pure human voice, cause it is dry and cold."
So people conclude that WMA has absolutely advantage at lower bitrates( under 128kbit/s), it is much smaller yet better sound effect.
Maybe one more thing I should mention: WMA support certificate encryption, without permission, even though you copy it to the local player, it still won't play.
What is WAV?
Waveform Audio File Format (WAVE, or more commonly known as WAV) is a Microsoft and IBM audio file format standard for storing an audio bitstream on PCs. It is an application of the Resource Interchange File Format(RIFF) bit-stream format method for storing data in "chunks".
It is the main format used on Windows systems, suitable for retaining first generation archived files of high quality, almost the same quality as CD.WAV audio formats can simply encoding and decoding.
The main disadvantage for WAV is the highly requirement for storage space. For small storage limit or small bandwidth applications, this may be a big issue. Another potential drawback of WAV format is that it is limited to files that are less than 4 GB, because of its use of a 32-bit unsigned integer to record the file size header (some programs limit the file size to 2 GB).The size of a one minute, 44kHZ, 16bitrate Stereo WAV file is about 10MB.
In the Windows platform, WAV is the best supported audio format, therefore, WAV format is the preferred format for music material.
For people who are intended to convert WMA to WAV files, or who do not mind to have a try, Bigasoft Audio Converter will show you the best way to do it.
First, download and launch the Bigasoft Audio Converter to make preparation.
Second, three steps to convert WMA to WAV.
Step 1 Drag the audio you want to convert.
Step 2 Choose the output format WAV
Step 3 Convert
Done? Yes, as promised, three steps, and all done.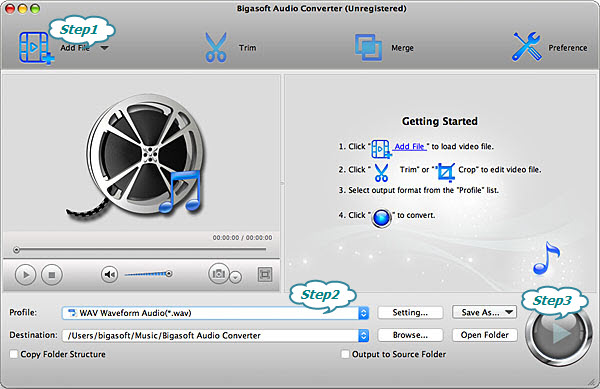 Conclusion:
Bigasoft Audio Converter is the best way to convert WMA to WAV file. It is also a powerful Mac video to audio decoder helps easily extract audio from video files like MP4, MOV, AVI, MPEG, MPG, 3GP, DivX, Xvid, ASF, VOB, MKV, WMV, H.264, 3G2, FLV, MOD, TOD, MTS, WTV, WebM, etc. and then convert to any audio format as you will, such as convert YouTube to MP3, convert MOV to MP3, and more. The music converter for Mac helps easily convert between popular and common audio formats such as M4A, WMA, APE, WAV, FLAC, OGG, APE, MP2, VQF, AAC, AUD, AIFF (Audio Interchange File Format), CAF (Core Audio Format), and more.
More Articles on Bigasoft.com ...
To find out more Bigasoft Solutions to enjoy your new digital life, you can go here.
Posted by Harvey Taylor. By the way, you may join me on Google+.